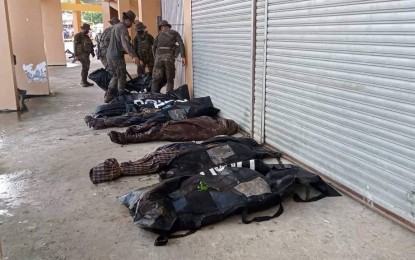 TACLOBAN CITY – The remaining members of the New People's Army (NPA) in Eastern Visayas are now "leaderless" and disorganized with the recent deaths, capture and surrender of its top leaders in the region, an official of the Philippine Army said.
Maj. Gen. Camilo Ligayo, commander of the Army's 8th Infantry Division, said the NPA in the region is on the verge of collapse as they could not find potential leaders who would direct and make critical decisions for the group.
"They are leaderless now since no one is giving them instructions. Many of their members realized that they have been deceived," Ligayo told reporters on Friday.
Couple Benito and Wilma Tiamzon were last seen in Samar last year, and nowhere to be found to make critical decisions for the group. Benito was believed to be the chairman of the Communist Party of the Philippines-National Democratic (CPP-NDF) and its armed wing, NPA.
On Aug. 22, 2022, a boat carrying 10 NPA rebels exploded in Catbalogan, Samar. The casualties reportedly included Tiamzon and his wife.
In a press briefing last month, the National Intelligence Coordinating Agency confirmed the couple's death based on intelligence reports and statements from their former comrades.
Ligayo said the death of Helenita Pardales, secretary of the NPA's Eastern Visayas Regional Party Committee (EVRPC) during a fierce gun battle on Nov. 23, 2022, in Las Navas, Northern Samar has further crippled the armed struggle.
Other NPA leaders in the region killed last year were Maria Norie Adelantar, finance officer of the NPA subregional committee; Amado Adelantar, executive committee member of NPA EVRPC; and Robin Rosco, platoon leader.
Those arrested were Esteban Manuel, a member of the Communist Party of the Philippines (CPP) central committee; Leonardo Bernardo, EVRPC member; Rosalinda Esponilla, EVRPC secretary; and Leo Bagaris, EVRPC regional staff.
"All villages vulnerable to NPA infiltration are now controlled by the government, hence preventing recruitment of new members, recovery efforts, and denial of resource generation," Ligayo added.
Dino Bachicha, an NPA platoon leader who surrendered last week, said they were like lost in the forest since no one had been directing them since last year.
"The past years have been boring since there was no information from our supporters about the location of government forces. We're like lost and starved in the forest," he said in an interview during their recent presentation inside an army camp in Catbalogan City in Samar.
Ligayo said that all NPA members who have surrendered, including their mass supporters, have been organized into peacebuilder groups aided by various government agencies.
"If the NPA organized to fight the government, they are now organized for the government. They are monitored and given help to ensure that they will not be influenced again by rebels," he added.
The Philippine Army is eyeing to completely dismantle the remaining four guerrilla fronts of the New People's Army (NPA) in Samar Island this year through the whole of nation approach.
The military estimated that there are still about 200 NPA fighters hiding in the mountains of Samar. (PNA)