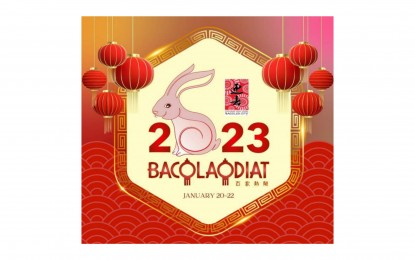 BACOLOD CITY – At least 509 personnel from various law enforcement agencies and support groups led by the Bacolod City Police Office (BCPO) have been tasked to secure the three-day Bacolaoadiat Festival, the city's grand Chinese New Year, which kicks off Friday afternoon.
Lt. Col. Sherlock Gabana, public information officer of BCPO, said the security contingent will be deployed to all three festival areas located in the eastern part of the city, starting at 3 p.m. on the opening day up to the end of the festivity on Sunday.
The festival sites include the Bacolod City Government Center and Megaworld's The Upper East along the Circumferential Road, and the Yuan Thong Temple on Burgos Street.
"Policemen and force multipliers will be deployed in these sites and in their vicinity," Gabana said.
At the SM City Bacolod, where the winners of the lantern dance competition will be announced and will have repeat performances on Sunday afternoon, personnel of Police Station 1 will be assigned to secure the area, he added.
Meanwhile, the Bureau of Fire Protection will deploy 34 personnel that will man the four firetrucks and a rescue truck that will be dispatched to the Government Center and The Upper East, from 5 p.m. to 12 midnight until Sunday.
At 4 p.m. on Friday, the festival will start with a "Dazzling Grand Parade" from The Upper East to the Government Center grounds participated by Filipino-Chinese families, city officials, and students from Chinese schools.
It will be followed by the ceremonial lighting of lanterns and a cultural show, and capped by a fireworks display dubbed "Sparkling Symphony of Lights".
The Imperial Village along with the Chopsticks Alley, which features Chinese cuisines and Filipino street food favorites, will be open at The Upper East from Friday to Sunday.
On Saturday night, the lantern street dance competition will be held in the two festival sites while the Dharma Prayer and the traditional ringing of the bell will take place at the Yuan Thong Temple on the eve of the Chinese New Year.
"It is our aspiration that the comeback of the Bacolaodiat Festival this year will be more vibrant, happier and meaningful to everyone as we are easing out of the pandemic," Bacolaodiat Festival chairman John Stephen Sy said in a statement.
The festival returns for face-to-face events after a two-year respite in 2021 and 2022 due to mass gathering restrictions brought on by the coronavirus disease 2019 (Covid-19) pandemic.
The year 2023 highlights the Year of the Rabbit, which is believed to offer opportunities for contemplation, rest, and nurturing of body and soul.
Bacolaodiat has been coined from two words -- "Baco" for Bacolod and "Lao Diat," a Fookien word for celebration. (PNA)