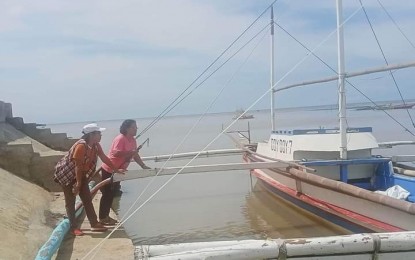 BACOLOD CITY – After Guimaras recorded cases of African swine fever (ASF), Negros Occidental has closely watched the ports of entry in the south, where people and goods from the neighboring island-province regularly pass through when going to this city and adjacent areas.
As of Friday, the towns of Buenavista and Jordan have already been tagged as an infected or red zone by the Department of Agriculture (DA)-Western Visayas.
Dr. Placeda Lemana, acting provincial veterinarian, said inspectors continue to monitor and apprehend prohibited items in the airport, seaports and border checkpoints.
"We are very blessed that we have maintained the province to be ASF-free because of the support of the local government units (LGUs) in preventing the entry (of banned pork products)," she added.
Lemana said most commercial pig farms in Negros Occidental are located in the south, particularly the fourth district, where the LGUs and the barangays along its coastline are actively supporting the campaign against the ASF.
"We are now focusing on the shoreline areas in the district. There is also news that a roll-on, roll-off vessel will soon operate from Guimaras to Pulupandan," she said.
Lemana added that the Provincial Veterinary Office (PVO) has been mobilizing the barangay paraveterinarians in the fourth district to watch the shorelines.
In Bago City, just south of Bacolod, five coastal villages have identified 12 areas, where both local and Guimaras boats regularly dock.
Moreover, Lemana said there has been a reduction in the volume of confiscated pork products, wherein last week only worth more than PHP60,000 were seized compared to the previous weeks which reached PHP200,000 weekly.
"Many people are already aware of the ban through information dissemination, but there are still apprehensions. In the previous week, we have apprehended piglets from Negros Oriental without proper documents and we shipped it back. Even if the product came from an unaffected area, but without documents, it still cannot enter the province," the PVO chief added.
Negros Occidental, which has a PHP6-billion hog industry, has been identified as a "dark green zone" or an ASF-free province by the DA. (PNA)