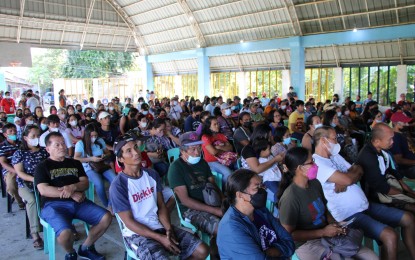 ILOILO CITY – The Department of Agriculture (DA) 6 (Western Visayas) will only start swine repopulation in the municipality of Oton in Iloilo province after carrying out a risk assessment.
"Right now, we could not recommend for the repopulation not unless we have assessed if the risk is too high or what," DA-6 officer-in-charge, Executive Director Jose Albert Barrogo, said on Friday, adding that the proposal came up during a meeting two weeks ago.
While the risk assessment has yet to start, the provincial government and the DA will work together to look at the situations in areas that used to be ASF-infected, Iloilo Governor Arthur Defensor Jr. said in a press conference on Thursday afternoon.
Iloilo's provincial government and the DA on the same day released PHP1.64 million in financial aid and 400 packs of vegetable seeds to 189 validated hog raisers from Oton affected by the animal disease.
The financial assistance ranged from PHP7,000 to PHP30,000 for each hog raiser, depending on the assessed value of their affected hogs.
Oton has more than 500 swine growers while about 3,000 hogs were depopulated due to the ASF.
"The war against ASF is not only to contain and to stop but to maintain the supply," Defensor said.
He said the impact of the depopulation in September and October last year has yet to be felt but there will be a supply problem three months from now if the spread of infection persists.
Data from DA show that as of Jan. 16, a total of 14 towns in the province have recorded ASF cases. (PNA)