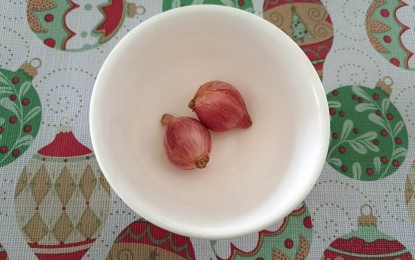 DUMAGUETE CITY – The prices of onions in Negros Oriental province have not yet seen any significant change these past weeks and are still very expensive, the Department of Trade and Industry (DTI) here said on Friday.
A partial report from the DTI-Negros Oriental showed that as of Jan. 20, prices of red onions here were from PHP660 to PHP750 a kilo; red onions (imported) at PHP490 to PHP580 a kilo; and white onions from PHP360 to PHP 400 a kilo.
Even the "sibuying", a variety of small onions, is still costly and sold at PHP400 a kilo.
"These are supermarket prices, which are higher by about PHP100 a kilo compared to those sold at the wet or public markets," said Nimfa Virtucio, DTI-Negros Oriental provincial director.
The monitoring team is still out in the field to gather the latest pricing.
Her office conducts price monitoring every Friday based on a memorandum issued by the higher office as directed by President Ferdinand R. Marcos Jr., she said.
During the holidays, onions were around at the same price but the Jan. 6 monitoring of the DTI here showed a minimal drop when it was sold between PHP500 and PHP 600 a kilo, she added.
On Dec. 29, the Department of Agriculture issued DA Circular No. 12 setting an SRP (Suggested Retail Price) of PHP250 a kilo for red onions sold in wet markets and had been in effect until the first week of January.
Virtucio said the DTI can only monitor the prices but it does not have the authority to set a new ceiling until the higher office tells them. (PNA)