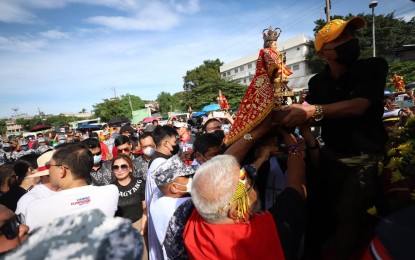 ILOILO CITY – Ilonggos took to the streets and joined the religious fluvial and foot procession on Friday to show their faith and devotion to Señor Sto. Niño after a two-year hiatus due to the pandemic.
"The fluvial and foot procession shows our deep devotion to Sto. Niño, the Child Jesus. Their wishes come true for some with deep devotion to the Sto. Niño," Maria Flor Muralla of the Cofradia De San Jose said in a media interview.
The fluvial procession has two dragon boat teams as marshals, the Philippine Coast Guard's M/V Romblon carrying the image of the Sto. Niño as the mother boat followed by eight fiberglass boats loaded with nearly 400 devotees.
The fluvial procession started at the Iloilo Strait in front of the building of the National Bureau of Investigation, moving towards the Iloilo River at the Muelle Loney area and berthed in front of the Iloilo Freedom Grandstand.
Fifteen "caro" or wagons carrying images of the Sto. Niño and other Catholic saints welcomed the contingent that joined the fluvial procession, which also marked the start of the foot procession.
The foot procession began from Muelle Loney, passed through major streets, and ended at the San Jose Parish Church for the 5:15 p.m. Mass.
It was followed by the blessings of the Sto. Niño images, as well as pregnant women and children.
The City Disaster Risk Reduction Management Office operations center estimated 3,500 people who joined the procession.
Muralla said the fluvial procession is a reenactment of how the Sto. Niño image arrived in the country by boat centuries ago.
"It has become a tradition and a devotion. We are asking for blessing for our seas to be fruitful and safe for travelers," she said.
The San Jose Parish church keeps the 55-year-old and also the oldest replica of the original Sto. Niño image in Cebu. (PNA)