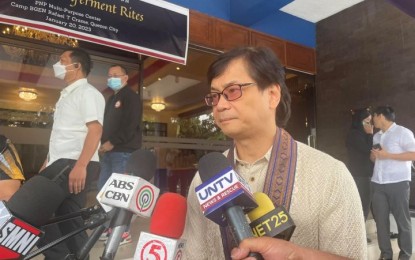 MANILA – Department of the Interior and Local Government (DILG) Secretary Benjamin Abalos Jr. on Friday urged the public to report to the DILG any police officer or local official in their communities that are involved in illegal drug deals, and vowed to have them immediately investigated.
"Importante ito. Kaya kung meron sa inyong nakakaalam sa barangay level, lungsod, sa lahat, na medyo may mga kalokohan, huwag kayo mahiya. Magsabi kayo sa himpilan namin (This is important. So, if any of you know of someone at the barangay level, city, in all levels, who are fooling around, don't be timid. Report it to our office). We must maintain this kind of integrity, this kind of credibility, importante po yan dahil maselan, ito ay laban ng droga (This is important because it is sensitive, this is war against drugs)," Abalos told reporters in the sidelines of the 17th National Police Commission (Napolcom) Police Executive Service Eligibility Service (PESE) confering rites held at the police headquarters in Camp Crame, Quezon City.
"Alam niyo naman, basta laban ng droga anlaking pera niyan and kung minsan (As you all know, in the fight against drugs, large amounts of money is involved, and sometimes) some of them are in very high positions, kaya critical, kaya talagang kailagan namin gawin itong prosesong ito (so it is critical, that's why we really need to do this process)," he said.

Abalos said he requested the courtesy resignations only of the full colonels and generals since they are occupying "very, very critical positions" in the police force. However, he assured that the monitoring investigation will include other police officers as part of the cleansing process in the Philippine National Police (PNP).
"Talagang nagsimula na tayo sa (We really started the) internal cleansing sa mga (to the) higher (police) officers. Pero yung intensity dapat diretso, hindi pwedeng mawala yan (But the intensity should be continuous, that should never be abandoned). That is what is important here right now,'' Abalos said.
According to PNP spokesperson, Col. Jean Fajardo, a total of 942 out of 953 third-level officials, or 98.85 percent of them, have already submitted their courtesy resignations as of Friday morning.
Abalos said the evaluation of the committee on the courtesy resignations of the police officers will be submitted to the Napolcom for their review.
"I am leaving their fate to this committee because we have addressed this as an institution. Ang pulis mismo, as an institution, ina-address itong problema na ito. Unang una, ako ay nagpapasalamat sa nagbigay ng resignation and yung problemang ito ay talagang tinayuan natin bilang isang institution (The police itself, as an institution, is addressing this problem. I am thanking those who have submitted their resignations, because we really have stood up to this problem as an institution)," he said.
As for those who have yet to submit their courtesy resignations, the DILG chief said he is appealing to them to do it in the next few days, as he assured all officers that "the evaluation process will be really fair to everyone."
"To make sure that ang proseso (process) will be really fair to everyone, importante yun na talagang dapat ito ay mabusisi maigi to make sure mawala yung ating mga ninja cops and to make sure naman yung mga inosente ay hindi madamay. Yan ang importante diyan (it's important that it should be thoroughly investigated to make sure our ninja cops will disappear, and also to make sure that those who are innocent are not affected. That's the important thing)," said Abalos.
Napolcom confers PESE to 359 PNP officials
Meanwhile, a total of 359 Police Commissioned Officers (PCOs) from various police offices/units nationwide were conferred the PESE Friday after successfully passing the two phases of the eligibiity process.
The PESE is an eligibility requirement for the third-level ranks of Police Colonel, Police Brigadier General, Police Major General, Police Lieutenant General, and Police General.
It assesses the ability of PCOs in answering analytical questions on police leadership and police values, designed to ensure the qualifications of future leaders in the police service.
During the validation interview, the interviewees undergo a thorough assessment by panelists composed of a Napolcom official, a PNP senior official, and a representative from either civil society, the academe, or a national government agency.
On Aug. 14, 2022, Napolcom conducted the written examination, which is the first phase of the PESE process, in designated testing centers in Luzon, Visayas, and Mindanao.
On Oct. 22-23 and Nov. 5-6, 2022, Napolcom conducted the validation interview, which is the second and final phase of the PESE process.
The complete list of PESE conferees can be viewed at the NAPOLCOM website at www.napolcom.gov.ph (PNA)