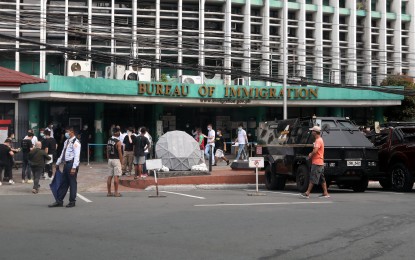 MANILA -- Six suspected victims of a cryptocurrency trafficking ring were recently intercepted by Bureau of Immigration (BI) officers at the Clark International Airport (CRK).
According to Immigration Commissioner Norman Tansingco on Friday, the passengers were about to board a Jetstar flight to Phnom Penh on Jan. 15 when they were accosted and invited for questioning by personnel from the BI's travel control and enforcement unit (TCEU).
"They gave inconsistent answers to questions fielded by our officers during interview which raised suspicions that they were merely disguised as tourists but their purpose is to work abroad," he said in a statement.
The BI chief added that the passengers pretended to be acquainted with each other, but they could not explain how or when they came to know each other.
TCEU acting head Ann Camille Mina reported that aside from giving inconsistent statements, the passengers also presented fake return tickets for their supposed return date.
"Eventually, they admitted that they will be working in a call center in Cambodia and were recruited through Facebook," she said.
Tansingco vowed to go after BI employees involved in trafficking syndicates.
He said the immigration officer who cleared the passengers for departure at the immigration counter is now being investigated and has been relieved of her post pending the results of the probe.
"Apart from internal links, we want to also help locate and arrest those illegal recruiters that entice employees to take part in their illegal scheme, as well as exploit the vulnerability of our kababayan (countrymen) whom they recruit. They are the root of this societal problem and they must also be arrested for this crime," Tansingco said.
Currently, the BI is investigating at least three persons of interest in the case.
According to BI spokesperson Dana Sandoval, besides the immigration officer at CRK, two immigration officers assigned at the Ninoy Aquino International Airport are also being investigated for their possible involvement in human trafficking syndicates in Cambodia and Myanmar.
"We are at the initial stages of the investigation. Actually, this has been expanded already, and now involves three individuals. The immigration officers have been relieved from their posts," she said at the Laging Handa briefing.
Asked if they have already traced if they are connected to the illegal activities in the two Asian countries, the BI official said, "That's what worries us, it seems to be related. We are looking at the patterns in what they are doing and the reports we received. While it might be too early to jump into conclusions, the initial reports we received is there might be a link."
As instructed by Tansingco, she said the investigation would not stop on the supposed involvement of three immigration officers, as they would like to know if more personnel are involved.
"Our investigation will not stop there with the two, or third immigration officer. We are looking into how many could be involved in this, not just internally, but also externally. As for our ranks, there will also be reshuffling, there will be changes of some people at our airports following these incidents," Sandoval said.
In another statement, Senator Risa Hontiveros urged the Department of Foreign Affairs (DFA) to expedite the repatriation of Filipino victims in Cambodia.
Hontiveros said she received reports there are stranded Filipinos staying at a police headquarters in Cambodia, citing the statement of a victim named "Miles" who previously implicated CRK personnel.
Immigration officials and airport terminal managers, among others, will be invited to the hearing of the Senate Committee on Women, Children, Family Relations, and Gender Equality that will tackle the incessant cases of outbound human trafficking of Filipinos on Jan. 25.
She reminded that airport and immigration officers must be the last line of defense against the trafficking of our citizens, but not in the case of the Cambodia recruits.
"Kung totoo, nakakalungkot na mismong mga empleyado ng gobyerno ang siyang nagpapahamak sa kapwa natin Pilipino (If true, it's sad that employees of our government put our countrymen in harm's way). After the "pastillas" scam that resulted in the indictment of a number of BI officials, it seems there are still groups or individuals within the agency who will stop at nothing to make an easy buck," Hontiveros said, referring to immigration officials who received bribes in the form of money hidden in milk candy wrappers from illegal tourists. (With a report from Leonel Abasola/PNA)