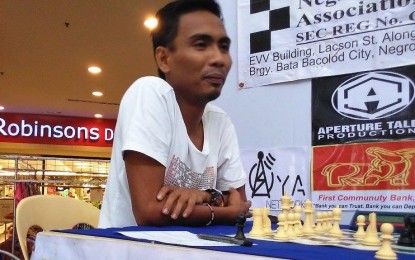 MANILA – FIDE Master Ellan Asuela keeps a positive attitude as he takes on tough foes at the Rodriguez Chess tournament in Cagayan de Oro City (CDO), Misamis Oriental on Jan. 28 and 29.
The tournament will be Asuela's first after winning the Kasparov Chess Foundation Asia-Pacific Absolute Challenge in Singapore in December last year.
"There are many strong opponents. Hopefully, I will get lucky and become champion again," the 35-year-old Asuela said in an interview on Saturday.
He picked fellow FIDE Master Kevin Cremer of Switzerland and the Canino brothers, Romeo and Ronald, as among the favorites.
"The Canino brothers are both rising stars here so they can pull off a surprise," said Asuela, who was born and raised in Bacolod City, Negros Occidental but is now residing in CDO.
Also competing are National Master Levi Mercado, also from CDO; 1997 Philippine Junior Champion National Master Elwin Retanal of Carcar, Cebu; and regular campaigners Bobby Salomon, Benoni, Napthali Wabe, Jun Gunayan, Romeo and Ronald Canino, Aljie Cantonjos, Bryan Jose, Ruther Barredo, Jonathan Docot, Harison Maamo, Jaime Joshua Frias II, Randolph Dalauta, Johnnel Balquin, Basilio Pandan, Jeriel Manlimbana, Rodney Opada, Clement Valledor, and Keith Adriane Ilar.
The tournament will award PHP10,000 in cash and a trophy to the winner in the Individual Open category; PHP7,000 and a medal to the runner-up; and PHP5,000 and a medal to the third placer.
Up for grabs in the Team Open category are PHP50,000 (champion), PHP30,000 (2nd place), PHP15,000 (3rd), PHP10,000 (4th), PHP7,000 (5th), and PHP3,000 (6th to 10th).
The top 10 finishers in the Under-14 category and recipients of special awards in individual and team events will likewise receive cash prizes.
"We do this to promote chess in the grassroots level and to discover future chess talents and champions," said Fr. Vic Arellano, Cagayan de Oro - Misamis Oriental Chess Association president. (PNA)