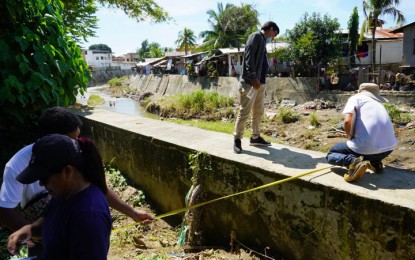 ZAMBOANGA CITY – The city government is undertaking new projects to prevent occurrence of massive flooding like the ones that happened in recent weeks.
Mayor John Dalipe said Saturday the projects include the construction of quality drainage systems, riprap projects and other efforts to avert massive flooding that greatly affected the residents.
"From less than a meter, the new riprap project will be three and one-half meters wide so that it can also serve as an alternate road for light vehicles," Dalipe said.
The city government, through the Housing Land Management Division (HLMD) of the Office of the City Mayor, and the Department of Public Works and Highways (DPWH), started on Thursday the inspection and survey of easements along the riverbanks from San Bernardino Bridge in Barangay Tetuan to Barigon Bridge in Barangay Tugbungan to pave the way for the construction of the new riprap or flood control projects.
Dalipe urged residents to help protect the environment of the city.
"Let all of us be responsible for our actions that affect each and every one of us in the city," he said.
Meanwhile, the HLMD and DPWH are pursuing thet/ waterway project in the fishpond area of Barangay Rio Hondo, which has been delayed due to some structural obstructions.
Rodrigo Pagotaisidro, HLMD chief, said illegal structures like house extensions had to be demolished to give way to the waterway project.
The project will help drain flood waters from downtown areas.
On Jan. 11, continuous rains due to a low pressure area inundated the city as rivers overflowed and low-lying communities in different barangay submerged.
A similar incident occurred at the height of Typhoon Paeng on Oct. 28, 2022 and on Christmas Eve.
Thousands of families were affected and properties destroyed. (PNA)