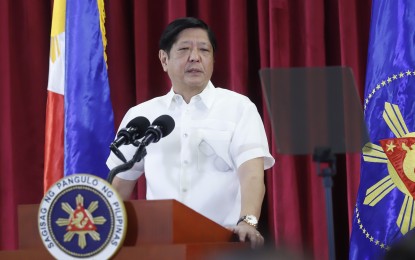 MANILA – Several foreign investors have expressed intent to explore business opportunities in the Philippines, President Ferdinand R. Marcos Jr. said Saturday after arriving from his fruitful participation in the 2023 World Economic Forum in Switzerland.
Marcos said his attendance at WEF enabled the Philippine government to open new trade and investment opportunities for potential foreign investors, forge key partnerships in support of his administration's economic development agenda, and secure commitments for increased levels of cooperation with various countries.
"I'm pleased with the progress we have made during our crucial participation in the World Economic Forum, a truly global multi-stakeholder platform. This trip is fairly unique for the medium and long-term goodwill and interests we have generated for our country, our enterprises and our people," Marcos said in his arrival statement after his 6-day Switzerland trip.
The president together with his delegation arrived in Manila at around 4:18 p.m. via a chartered flight.
Marcos noted a pledge from the business leaders he met on the sidelines of the WEF activities to invest in the Philippines' key sectors, including mining, processing, digital solutions, logistics, telecommunications and renewable fuel.
The investment commitments, Marcos said, would give local firms in the Philippines the opportunity "to participate deeper in global value chains."
"We will now be working to consolidate and develop these contacts and discussions that we have begun," Marcos said.
"The measure of success will be how much of this we can bring to fruition. That process has begun and we will continue until we see the final results of these endeavors," he added.
Marcos said Finance Secretary Benjamin Diokno and Socioeconomic Planning Secretary Arsenio Balisacan are still in Switzerland for "follow-up meetings" with Davos's economic and political leaders.
Diokno and Balisacan, the country's economic managers, are part of the official Philippine delegation for the annual WEF.
Marcos also expressed appreciation for the strong presence of the top Philippine business leaders in Switzerland to help his administration promote partnerships with international private leaders.
During his stay in Davos, Switzerland, Marcos held a series of meetings with the executives of logistics firm DP World, mining and commodities training giant Glencore, and investment banking powerhouse Morgan Stanley.
The three international firms have expressed plans to expand their business operations in the Philippines.
Driver of economic growth
Marcos also believed that participants have acknowledged the country's crucial role in resolving challenges by "helping mend the fissures that have fragmented the world."
He also said he was able to relay to the participants that the Philippines is also a key driver of economic growth not just in the Asia-Pacific region but also in the world.
"We are seen to play a part in that, and especially as a member-state of Asean (Association of Southeast Asian Nations) and as a leading economy in Asia," Marcos said.
"We shared our insight and experience in being resilient, hardworking people, uniting in adversity and looking out for each other in crisis," he added.
Highlighting policies
During his participation in WEF, Marcos said he highlighted his administration's policies, including the Philippine Development Plan, the eight-point socioeconomic agenda, and various other policies and legislations toward economic reforms.
He added that he also emphasized the Philippines' work across trade and investment, monetary and fiscal policies, food and energy security, climate action, structural reforms, digitalization, public-private partnerships, health and nutrition, education and other social services.
Also, the president said he has met with WEF founder and chairperson Klaus Schwab to discuss partnerships and collaboration to help the Philippines sustain "equitable and inclusive" growth and provide Filipinos a "better quality of life."
Marcos said he also held separate meetings with world leaders such as World Trade Organization director Ngozi Okonjo-Iweala, World Bank managing director for operations Axel van Trotsenburg, International Monetary Fund managing director Kristalina Georgiva, and former United Kingdom Prime Minister Anthony Charles Lynton Blair.
The meetings with world leaders, Marcos said, focused on the commitment to push for common priorities and support for the multilateral trading system that will be beneficial to the world economies. (PNA)