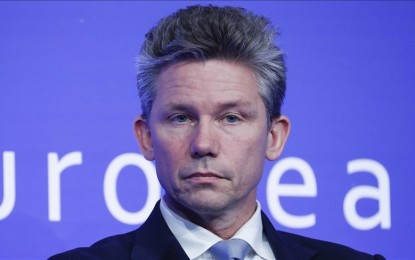 WELLINGTON – The New Zealand Labor Party has confirmed Chris Hipkins as the party's new leader and New Zealand's 41st Prime Minister.
In a press conference on Sunday, the Labor Party caucus meeting voted the Caucus member, Minister for Education, Police and Public Service and Leader of the House Hipkins as the new party leader.
Hipkins was the only nominee to replace Jacinda Ardern, who announced her resignation on Thursday.
Member of Parliament for Kelston and Cabinet minister Carmel Sepuloni was appointed deputy prime minister.
According to the New Zealand political system, the majority party of the Parliament forms the government and that party leader becomes the prime minister.
Speaking at the press conference after the Caucus meeting, Hipkins said he will be officially sworn in as the Prime Minister on Wednesday.
A Cabinet reshuffle will be also arranged in the coming week.
Hipkins vowed to focus on domestic issues, saying high inflation, high housing prices and law and order issue will be the major policy focus of his government, while going to China would be high on the priority list but not locking in any international travel plans yet.
Ardern announced on Thursday that she will step down as the prime minister and the leader of the Labor Party in February.
She will not be seeking re-election this year.
Meanwhile, New Zealand's 2023 general election will be on Oct. 14, Ardern said. (Xinhua)