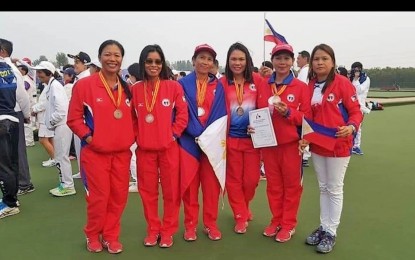 MANILA - Fourteen Philippine athletes will join the 14th Asian Lawn Bowls Championship in Malaysia next month.
The tournament will be held from Feb. 20 to 26 at the Arena Lawn Bowls in Ipoh, the capital of Perak state.
Rodel Labayo, men's pair gold medalist at the 2019 Manila SEA Games, will lead the team composed of Ronald Lising, Leo Carreon, Hommer Mercado and Elmer Abayato (men's); Marissa Baronda, Hazel Jagonoy, Sonia Bruce, Rosita Bradborn and Ronalyn Greenlees (women's); James Christian Andia and James Raz (Under 25 boys); and cousins Andrea and Angeleca Abayato.
They will be accompanied by coaches Chris Dagpin and Rey Samia.
Also joining the trip are Philippine Lawn Bowls Association (PLBA) president Benito Pascual II and board of director Gene Lopez, who will both attend the Asian Lawn Bowls Federation meeting on Feb.25.
"We never stopped training. We are fully prepared. In 2018, only the women's team was able to join. This time, we have the men's and juniors teams," Greenlees said in an interview on Sunday.
She is now a Level 2 international coach, having attended the seminar course in Malaysia two weeks ago.
"What I learned from the seminar would be a great help during our training," said Greenlees, who also served as PLBA president.
The national bowlers are regularly practicing at the Clark Global City in Pampanga, the same venue as the SEA Games.
"We are very grateful to the Clark Development Corporation (CDC) for allowing us to use the venue," Greenlees said. "The PLBA will not be as it is now without the help of CDC and course, the Philippine Sports Commission and the Philippine Olympic Committee."
The Philippines is hoping to improve its one silver and two bronze medals performance in the last Asian Championships hosted by China in 2018.
Bradborn and Bruce captured the women's pairs' silver medal.
They also won the women's fours bronze medal with Jagonoy and Greenlees. Ainie Knight contributed another bronze medal in the women's singles event.
With the three medals, the Philippines ranked second overall in the women's division with 27 points, behind Malaysia, which garnered 34 points after winning two golds (pairs and fours) and two bronzes (singles and triples). Singapore placed third with 25 points for winning one gold (singles) and one bronze (triples).
During the 2019 SEA Games, the Philippines won one gold, three silver and two bronze medals, finishing second behind Malaysia (4-0-2).
Labayo and Angelo Morales topped the men's pairs event, while the silver medalists were Elmer Abatayo, Mercado and Dagpin (men's triples); Nancy Toyco, Bruce and Knight (women's triples); and Baronda, Bradborn, Jagonoy and Sharon Hauters (women's fours).
Greenlees and Nenita Tabiano bagged the bronze in women's pairs event, the same medal won by Curte Robert Guarin, Emmanuel Portacio, Lising and Carreon in the men's fours event. (PNA)