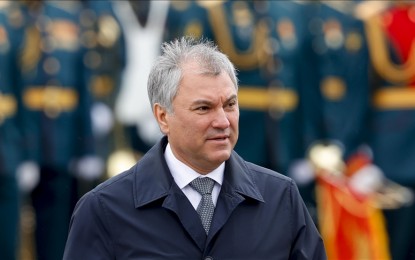 ISTANBUL– The head of Russia's lower house of parliament, the State Duma, warned on Sunday that the delivery of heavy weapons to Ukraine by Western countries would lead to "global catastrophe."
"If Washington and NATO countries supply weapons that will be used to strike civilian cities and attempt to seize our territories, as they threaten, this will lead to retaliatory measures using more powerful weapons," Vyacheslav Volodin said on Telegram.
Volodin urged members of the US Congress, in addition to lawmakers in Germany's Bundestag, the French National Assembly and other European parliaments, to "realize their responsibility to humanity."
The US recently vowed to support Ukraine if it launched an operation to retake the Crimean Peninsula, which Russia illegally annexed in 2014. Moscow also annexed four regions in eastern Ukraine last year after what the West denounced as "sham" referendums.
"With their decisions, Washington and Brussels are leading the world to a terrible war: To a completely different military action than today, when strikes are carried out exclusively on the military and critical infrastructure used by the Kyiv regime," Volodin noted.
He also said politicians needed to understand that such decisions could end in "a global tragedy" that would destroy their countries, based on the "technological superiority of Russian weapons."
Suggesting that Russia would not hesitate to use nuclear weapons in the conflict, Volodin claimed that the security of its people and its territorial integrity were under threat.
"Arguments that the nuclear powers have not previously used weapons of mass destruction in local conflicts are untenable. Because these states did not face a situation where there was a threat to the security of their citizens and the territorial integrity of the country," he said.
Around 50 defense ministers and senior officials from Western countries on Friday attended the Ukraine Defense Contact Group meeting at the Ramstein Air Base in Germany, where Kyiv's allies pledged further military support to the embattled country but failed to iron out divisions on sending battle tanks. (Anadolu)