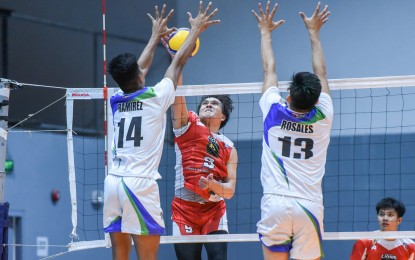 MANILA – Louie Ramirez scored 17 points as the Imus AJAA Spikers outplayed the Sta. Rosa Lions, 25-22, 28-26, 29-31, 25-16, to begin its campaign in the Spikers' Turf Open Conference at Paco Arena on Sunday night.
Kim Malabunga, a former member of the VNS Volleyball Club, had 14 points while Josh Villanueva chipped in 11 points for the Cavite-based team, which is supported by Ivy Tuason Photography.
"Frankly, I'm not satisfied with the performance of my team. It's great we won but we still struggle trying to get all the players in training," said Imus head coach Sammy Acaylar during the post-match interview.
He added: "Actually, we only had two days to prepare with eight players only. It's only now that we are complete. They are all good, I respect their skills so I just told them let's build it so we can see where we are lacking."
Ridzuan Muhali helped Imus to overcome a 22-24 deficit in the third set but Sta. Rosa fought back behind Kevin Montemayor and Anrie Bakil to send the game to another set.
Montemayor finished with 13 attacks, two aces and one block while Exequiel Quezada and Gabriel Magsino contributed 10 points each.
Meanwhile, National University will kick off its title defense against Vanguard at 6 p.m. on Jan. 25. Philippine Air Force and Iloilo will square off at 4 p.m. (PNA)