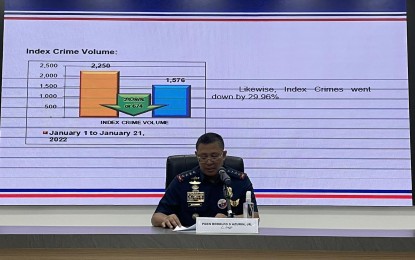 MANILA – Only 11 senior police officials have yet to submit their courtesy resignation as part of the force's intensified internal cleansing measures, Philippine National Police (PNP) chief Gen. Rodolfo Azurin Jr. said on Monday.
Eight colonels and three brigadier generals have until Jan. 31 to submit their courtesy resignations, Azurin said in a press briefing at Camp Crame, Quezon City.
"Siguro they are still trying to discern na 'magsa-submit pa ba ako eh aabutan naman ako ng retirement' but to us we also still encourage them na magsubmit lang kayo so that at least kahit papaano ay totally maki-clear kayo kung ano man yung kahinatnan nitong evaluation and review ng individual na involvement ng lahat sa illegal drugs (Maybe they are still trying to discern whether 'I will still submit because I am nearing retirement.' But to us, we also still encourage them to just submit so that at least somehow you will be totally cleared whatever the outcome of this evaluation and review of the individual involvement of everyone in illegal drugs)," he said.
A five-man committee will be created to investigate and assess the officials who were asked to tender their resignation and will make recommendations to President Ferdinand R. Marcos Jr.
Former police general and now Baguio City Mayor Benjamin Magalong was earlier named as one of the members of the panel. The other four members are yet to be announced.
The National Police Commission would also review the names of police officers whose resignations will be accepted.
Azurin said as of Jan. 20, the Directorate for Personnel and Records Management discipline, law and order division has received the courtesy resignation of 942 senior PNP officers from a total of 953 third-level police officials.
"Definitely, the PNP will look into this. If they did not submit, we don't have any record. The PNP will study if there are indicators of them being involved in illegal drugs during their incumbency as third level officers and (even) after reaching retirement," he said.
Meanwhile, Azurin said the PNP is off to a strong start in the national campaign against illegal drugs this year with encouraging results of operations.
He said the first 16 days of 2023 are highlighted by the seizure of more than PHP81 million worth of illegal drugs during 1,831 police operations.
In the same period, he said 2,518 drug offenders were arrested -- 146 of whom are high-value targets.
"I would like to point out that anti-illegal drugs operations are among the priority operational thrusts of the PNP this year with greater emphasis on demand reduction efforts through rehabilitation, treatment, and training while simultaneously staging intelligence-driven operations in supply reduction by hitting hard on big-time drug syndicates and big personalities engaged in large-scale drug trafficking," he said.
Azurin also said the peace and order indicator for the first 21 days of this year generally decreased by 23.66 percent or 8,391 incidents from 10,991 incidents for the same period last year.
He added the index crimes went down by nearly 30 percent or from 2,250 cases from Jan. 1 to 21 last year to 1,576 this year. (PNA)