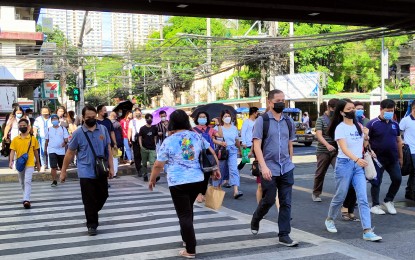 MANILA – The positivity rate or the number of people testing positive for the coronavirus disease 2019 (Covid-19) in the National Capital Region (NCR) further dropped to 2.4 percent as of Jan. 21.
Over Twitter, OCTA Research Group fellow Dr. Guido David said on Monday the region's positivity rate was 3.7 percent on Jan. 14.
"No province in Luzon had an increase in positivity rate. Many provinces have low positivity rate, less than 5 percent," David said.
These provinces include Albay with 3.5 percent; Bataan, 2.5 percent; Batangas, 4 percent; Benguet 2.5 percent; Bulacan, 2 percent; Cagayan, 4.5 percent; Cavite, 1.8 percent; Ilocos Norte, 2.9 percent; La Union, 2.2 percent; Laguna, 2.8 percent; Nueva Ecija, 3.1 percent; Pampanga, 3.4 percent; Pangasinan, 1.4 percent; Quezon, 2.2 percent; and Zambales, 4.3 percent.
Meanwhile, Isabela's positivity rate significantly decreased to 10.7 percent from last week's 50.2 percent.
As for Oriental Mindoro, its positivity rate dropped to 9.1 percent from last week's 20.5 percent.
As of Jan. 22, the top five areas with the most number of cases include NCR with 104 cases; Negros Occidental and the provinces of Rizal with 23; Davao del Sur with 22; Iloilo with 19; Cavite with 13; and Palawan with 12. (PNA)