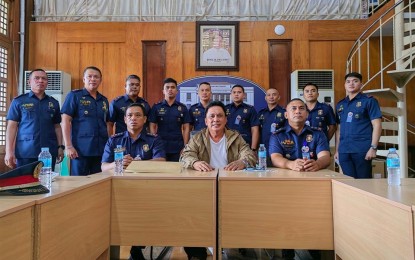 DUMAGUETE CITY – Negros Oriental Governor Roel Degamo on Monday challenged the new provincial police chief, Col. Reynaldo Lizardo, to bring "total peace and development" in the province by addressing the issues concerning criminality, illegal drugs and illegal gambling, particulary online "sabong" (cockfights).
Degamo made the challenge after announcing that he chose Lizardo to be the PNP's provincial director in full capacity.
Lizardo assumed as acting Negros Oriental provincial police director in late November of last year.
"I would like to tell you that I have my full trust and confidence for you to run the provincial police office," said the governor when Lizardo, together with Negros Oriental's town police chiefs, paid him a courtesy call.
"And I think that in your full capacity as a provincial director, (we) can now address the problem of criminality, illegal drugs, illegal gambling, especially online 'sabong' and insurgency."
Degamo said he was hopeful that PNP Regional Director, Brig. Gen. Jerry Bearis, and the National Police Commission will issue Lizardo's appointment paper soon.
It has been a practice that a governor is given the prerogative to choose his/ her provincial director from a list of three nominees submitted to him by a higher PNP office.
In response, Lizardo thanked the governor and reassured him that he would give his full commitment and dedication to keeping the peace and order in the province.
He did not elaborate, however, on how the PNP provincial office would address the issues raised by the governor, particularly online sabong (cockfights).
"I thank the governor for choosing me to serve in a full capacity as provincial director and I can assure him that we will do our best to preserve the peace and order in Negros Oriental, especially with the support of the church and the people under the 'Simbayanan' program of the Philippine National Police," he said in mixed English and Filipino.
The police director also appealed to the people for their help and cooperation, noting the significant role they play in attaining peace and order in the communities. (PNA)