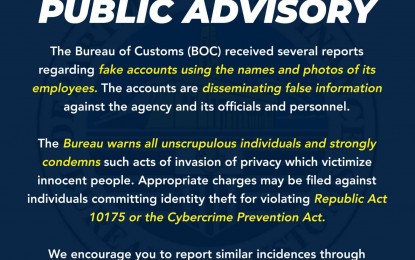 MANILA – The Bureau of Customs (BOC) on Monday warned the public against dubious accounts using the names of its officials and personnel.
"The accounts are disseminating false information against the agency and its officials and personnel. The Bureau warns all unscrupulous individuals and strongly condemns such acts of invasion of privacy which victimize innocent people," it said in an advisory.
The warning was issued after receiving several reports regarding fake accounts using the names and photos of its employees.
At the same time, the BOC is looking to file charges against those behind this illegal activity.
"Appropriate charges may be filed against individuals committing identity theft for violating Republic Act 10175 or the Cybercrime Prevention Act," it said.
The bureau also urged the public to report to them any incidents regarding the matter.
"We encourage you to report similar incidences through the BOC hotline # 8705-6000 or the following BOC official social media accounts: Facebook: @BureauOfCustomsPH, Instagram: @customs.ph, Twitter: @customs.ph, Viber: @Bureau of Customs PH and Email: [email protected]," it added. (PNA)