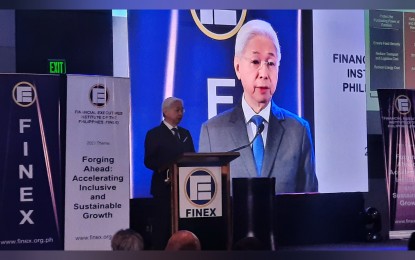 MANILA – Trade and Industry Secretary Alfredo Pascual on Monday reminded business executives to continue reskilling and upskilling their workforce to avoid job shedding as businesses adopt technology and embrace automation.
During the inaugural meeting of the Finance Executives Institute of the Philippines at the New World Hotel in Makati City, Pascual urged businesses to invest in developing human capital and capacity-building programs to prepare the workforce for the jobs of the future.
"We also would like to persuade and support companies to upskill their workforce so that workers can perform newer and higher-order roles that complement the work of machines," he said.
He noted that many jobs will lose due to automation, but new and high-quality jobs will emerge by adopting technologies that will increase productivity. However, this would require boosting investments in skills development.
"Current systems of learning and signaling job-fit are not enough to provide the agility that lifelong learners will require. We, therefore, need to shift to a skills-based approach that can provide more efficient mechanism," Pascual said.
In an article of the United Nations Conference on Trade and Development last week, its director for Division on Technology and Logistics Shamika Sirimanne said automation, like the use of artificial intelligence, will benefit most high-income and some upper-middle-income countries because of the availability of high-skilled labor and the quality of digital infrastructure.
On the other hand, taking advantage of technologies will be challenging for low-income and most lower middle-income countries due to the low share of skilled workers and slow internet speed.
Automation inevitable
On the sidelines of the event, Philippine Chamber of Commerce and Industry president George Barcelon said in some countries, the agriculture sector will be losing a lot of jobs in 10 years due to automation.
"That automation improved the productivity. We know that we are concerned with the farmers, but they also have to realize that if they are not productive, if they are not efficient, the prices of our commodities are much expensive," Barcelon told reporters.
He said while the private sector is upskilling and reskilling their workforce, the government should look into the education system, which also needs updating and more investments to prepare Filipinos for emerging jobs in the future. (PNA)