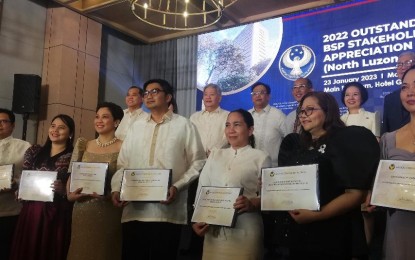 BAGUIO CITY – Bangko Sentral ng Pilipinas (BSP) Deputy Governor Bernadette Romulo-Puyat is optimistic about continuous economic recovery with the current upward trend in "revenge tourism."
"Masaya ako ngayon with revenge tourism. People want to travel, gumagastos ang mga tao, namimili sa palengke at maganda sa economy (I am happy with revenge tourism because people want to travel and spend money, they make purchases, which is good for the economy)," Puyat said during the BSP-North Luzon outstanding partners' recognition ceremony held here on Monday.
"Revenge tourism" is observed post-pandemic, when more people decide to travel after being confined to their homes during the height of the health crisis.
"The way we're seeing it, the economy is alive unlike before ako lang ang turista dahil maya't-maya lockdown (when I was the only tourist due to the frequent lockdowns). I am so happy that we are all here today," she said.
The former secretary of the Tourism department was instrumental in Baguio's re-opening to tourists as early as September 2020 at the height of the Covid-19 pandemic, with the agency's assistance in setting up the Baguio Visita online visitor portal.
"Ang ganda na nandito tayo ngayon, face-to-face, hindi lang sa Baguio, nationwide, mas mataas ang tourism statistics (It's good that we are here, face to face, and not just Baguio, nationwide, tourism statistics is higher) compared to pre-pandemic with everyone wanting to travel and that is good for the economy," she added.
Puyat, who represented BSP Governor and Monetary Board Chairperson Felipe Medalla in the event, said she is happy that "tourism has become a major contributor to the economy, higher than pre-pandemic."
Digital economy
Meanwhile, she said the Monetary Board and the BSP want that more tourism stakeholders would shift to digital transaction since it is not only fast but also efficient.
"We want that not just for tourism, the whole economic activity will shift to digital," Puyat added.
In this regard, the official said they are happy that more local government units (LGUs) and other stakeholders in the business sector are adopting the Paleng-QR program of the BSP which is part of the financial inclusion program of the government.
Puyat said several local government units and businesses "are adopting the online financial transactions program of the BSP following its launching in Baguio City last year."
She noted that the cities of Davao and Tagbilaran have also launched their Paleng-QR adoption programs while Pasig, Antipolo, and Lapu-Lapu Cities will follow suit.
The Paleng-QR program encourages online payment for goods and services. It encourages the public to open a bank account or avail of the services of financial service providers that are included in the financial inclusion program of the BSP. (PNA)