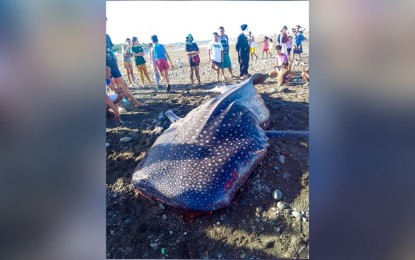 SAN JOSE DE BUENAVISTA, Antique – A male juvenile whale shark found dead in Sitio Banay-Banay, Barangay San Pedro here succumbed due to disorientation.
Joemar Bana, Bureau of Fisheries and Aquatic Resources-Antique (BFAR) officer and mammal responder, said in an interview Monday that small fish and shrimps were found on the mouth of the whale shark when it was found dead by resident Butch Maghari on Sunday.
The sea mammal was 5.9 meters long and weighs around 500 kilos.
"The whale shark is believed to have been chasing small fish and shrimps for food up to the estuary of Durog River and the sea when it was trapped," Bana said.
The estuary where the mouth of the river and the sea meet is a rich fishing ground because of the thriving planktons.
"The whale shark must not have realized that it was a low tide and it could no longer swim back to the sea, so it got stressed and became disoriented," he said.
It was buried in Barangay San Pedro as the death was not caused by a disease as per the assessment of BFAR, Municipal Environment and Natural Resources Office, Provincial Veterinary Office and other responding offices.
"The whale shark was buried in an area quite far from the shoreline so that it would not be washed away," Bana said. (PNA)