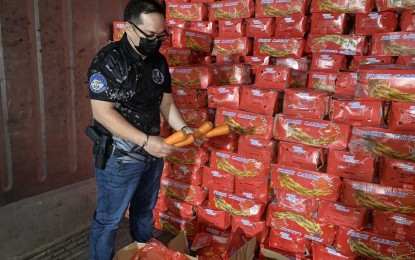 MANILA – A lawmaker on Monday requested the House Committee on Ways and Means to issue subpoenas to various individuals and consignees allegedly involved in large-scale agricultural smuggling at local ports in the Philippines.
During the House hearing on the smuggling of basic commodities and tobacco, Sultan Kudarat Rep. Horacio Suansing emphasized the need to hold accountable those responsible for facilitating the proliferation of agricultural smuggling in the country, particularly those involved in the misdeclaration and undervaluation of agricultural imports.
He identified the purported brokers, importers and facilitators as Michael Ma, Lujene Ang, Andrew Chang, Beverly Peres, Aaron, Manuel Tan, Leah Cruz, Jun Diamante, Lucio Lim and Gerry Teves.
As for consignees, Suansing named Victory JM Enterprises, Taculog International Consumer Goods Trading, Asterzenmed Aggregates, Veneta Consumer Goods Trading, Lalavy Aggregates Trading, Frankie Trading Enterprises, Primex Export-Import Producer, SB Express Logistics Business Solution, Silver Pop Dry Goods Trading, Thousand Sunny Enterprises, Viogelas Viol Aggregates Trading, Junezone Dry Goods Trading and Burias Jang Consumer Goods Trading.
He also requested records and documents from the Bureau of Customs (BOC) on importer PISHON Corporation, whose cigarette products are allegedly flooding Philippine local markets despite only being declared for transshipment to Malaysia.
"In view of these requests, I will divulge in due time pertinent information on these individuals and personalities, which would make relevant these requests to the Committee and to the concerned government agencies," Suansing said.
Suansing highlighted how observable discrepancies in data on total import values reported by the Philippines and those reported by international organizations, as these demonstrate the extent of smuggling activities across the country.
He cited international news outlet South China Morning Post reporting a USD30.51 billion difference in the total value of imports from China in 2021 reported by the Philippines and the United Nations International Trade Statistics Database.
The Philippine Statistics Authority (PSA) said the value of imports from China totaled USD26.8 billion in 2021, while the United Nations International Trade Statistics Database reported total value of goods that entered the Philippines from China totaled USD57.31 billion for the same year.
Citing the same report, Suansing noted that the PSA reported that the total value of agricultural imports that entered the Philippines from all countries is USD14 million.
He, however, pointed out that the United Nations trade statistics show that Chinese agricultural and fish exports to the Philippines alone (without fruits and nuts) was worth USD138 million in 2021.
"That is a USD124 million gap in reported data from the Philippines and from the United Nations International Trade Statistics Database," he said.
"Given these alarming reports, and in the interest of forging and building credibility and confidence on our government processes and institutions, I believe that it is incumbent upon this Chamber to exercise its oversight functions to scrutinize data reported by our own government agencies, to reconcile these data with those reported by international and multilateral organizations, and to recommend legislation and remedial measures, whenever necessary," he added.
Committee chair Joey Salceda, meanwhile, bared a scheme for smuggling of agricultural and sensitive imported products such as tobacco during the hearing.
Salceda said based on records he received from personal intelligence networks, he found that tobacco master cases that are due for seizure are instead being applied for transshipment permits with the Port of Subic and the Subic Bay Metropolitan Authority,
"What probably happens is that the shipment is declared for 'transshipment' but actually leaks to the domestic market. That's outright smuggling," Salceda added.
Salceda said "One Container Vans (CV) containing 1,038 master cases of illicit cigarettes with brand Modern with Pishon Corporation as consignee" are being applied for a transshipment permit.
"We are alarmed that the goods were intended again for PISHON CORPORATION, the declared consignee, since the former has been involved in a previous case of misdeclared importation carrying 972 master cases of illicit cigarettes," Salceda said.
The same PISHON Corporation was named by Suansing as a possible smuggler and is also to be called by the Committee for inquiry on its next hearing.
"Goods were declared for re-export with final destination in Malaysia. Good for re-export should have re-export bond under customs and BIR (Bureau of Internal Revenue) regulations. It is likely that the two container vans were put on hold by BOC Subic and SBMA for not having a re-export bond. To avoid this issue, it appears that PISHON Corp. is declaring that the goods are for transshipment," Salceda said.
While Customs and Subic Port officials said they were not in possession of records on the matter, Salceda supplied them with a seizure order on the 972 master cases, and a bill of lading for one container van containing 1,038 master cases are being applied for a transshipment permit.
As for the 972 master cases apprehended, Customs officials said Pishon Corporation denied that they are the consignee.
Thousand Sunny Enterprises, also named in the Senate's investigation on vegetable smuggling in 2021, is also suspected to be a consignee according to the BOC's seizure order. (PNA)