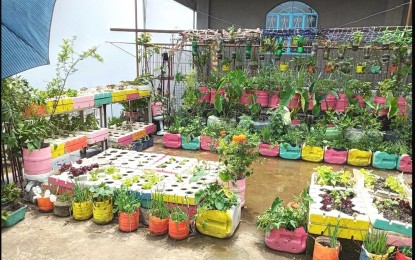 BAGUIO CITY – The Department of the Interior and Local Government in the Cordillera Administrative Region (DILG-CAR) has again urged barangay officials in the region to encourage residents to adopt backyard gardening to ensure food for their families.
Araceli San Jose, regional director of the DILG-CAR, in a phone interview on Monday said "we are asking barangay officials in the region to establish community gardens in support of the current administration's major thrust to address hunger and ensure food security."
The DILG had earlier issued Memorandum Circular 2023-001 entitled "Implementation of the Halina't Magtanim ng Prutas at Gulay (HAPAG) sa Barangay Project".
San Jose said aside from residential backyard gardens, community food gardens will contribute to ensuring food security.
"We are urging our barangays to identify areas where they can establish their respective community gardens where residents can access food," she said.
She noted that community gardens should be at least 20 square meters in size and the barangay residents can choose the crops that they will plant.
San Jose urged villages that do not have vacant areas to implement alternative gardening methods such as container, vertical, square foot, hydroponics, aquaponics or aeroponics.
"We are also encouraging our barangays to coordinate and request from their respective city or municipal governments or with private individuals who own certain vacant lots that can be used to establish the barangay community garden," she said.
The barangays, she added, should encourage the residents to set up their family vegetable gardens and/or plant fruit-bearing trees in available open spaces.
San Jose further said aside from establishing vegetable gardens, the local government units should also include in their respective development and annual investment plans applicable programs and activities to promote nutrition such as the establishment and maintenance of barangay community gardens to ensure adequate funding for nutritional impact.
Moreover, barangays with suitable spaces are encouraged to plant bamboo, she noted.
The Department of Agriculture earlier said it provides seedlings to residents who want to grow food on pots and or small land areas in the backyards. (PNA)