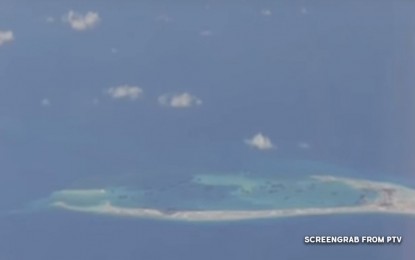 MANILA – Palawan 3rd District Representative Edward Hagedorn on Monday expressed deep appreciation as his proposed measure for the environmental protection and preservation of the West Philippine Sea gained ground among key government agencies.
House Bill No. 6373, which he authored, aims to declare all low-tide elevations and high-tide features, and an area of three nautical miles around the Kalayaan Island Group and Scarborough Shoal as a Marine Protected Area.
Hagedorn has already met and discussed related matters with the officials of the Department of Environment and Natural Resources-Biodiversity Management Bureau (DENR-BMB), the Department of the Interior and Local Government (DILG) and the Department of National Defense (DND).
"I thank the DENR, DILG, DND, and all the other experts who have engaged me in discussion and have shown genuine interest in protecting our environment. The discussions made during the recent meetings are positive and we have found that our views are aligned," Hagedorn said.
"The invaluable insights of these government officials will all help in shaping the bill into something that will strengthen the protection and preservation of the atolls, coral reefs and other vital marine resources in the Kalayaan Island Group and Scarborough Shoal. Indeed, this is a cause that we should unite for," he added.
The lawmaker is set to continue discussions with these government agencies to further enhance HB 6373, which is set to be heard on Jan. 25 after Speaker Martin Romualdez included it among the House of Representatives' priority bills.
Hagedorn thanked Romualdez for seeing the importance and necessity of the bill that cited Republic Act No. 11038 or the "Expanded National Integrated Protected Areas System Act of 2018" and the UN Arbitral Ruling in seeking to declare the said areas as a Marine Protected Area.
In its explanatory note, it cited a 2012 study by Rudolf de Groot, et. al., which stated that coral reefs are our "single most valuable ecosystem."
"A hectare, or about 2.5 acres, of reef can produce a potential value of approximately USD350,000 a year. The coral reefs in the Spratly's, which serve as the breeding ground of fish in the South China Sea, comprise 34 percent of the world's total coral reefs, despite the South China Sea occupying only 2.5 percent of world's total ocean and sea surface," it read.
"As such, the South China Sea is one of the richest marine areas in the world which is the home to diverse marine ecosystems with over 3,000 species of fish and 600 species of coral reef," it added.
The explanatory note also mentioned how some activities by surrounding states borne out of territorial disputes–like overfishing, poaching and large-scale ocean filling or reclamation, among others–led to significant environmental degradation in the area. (PNA)