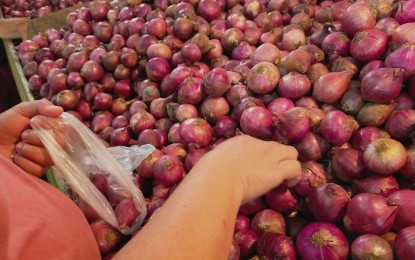 MANILA – The Department of Agriculture (DA) on Monday said there is no longer a shortage of onions as the first batch of import volume arrived in the country.
In an interview, DA deputy spokesperson Rex Estoperez said more than 1,000 metric tons of imported yellow and red onions arrived.
"At this point in time, wala pa tayong nakikitang (we are not seeing any) shortage, because of the coming harvest and the coming imports," he said.
He said the Bureau of Plant Industry (BPI) records showed that the first batch includes 400 metric tons of yellow onions and 800 metric tons of red onions.
The first arrival is part of the 5,775 metric tons of onions with sanitary phytosanitary import clearance (SPSIC).
"As of today, wala pa siya sa market, bago lumabas sa market 'yan (it's not yet available in the market. Before it is released to the market), it has to be cleared by the Bureau of Plant Industry," Estoperez said.
He reiterated that the imported onions will be all allocated to Luzon, Visayas and Mindanao areas.
"'Yun pong ating import ngayon (our import now), distribution is located to Visayas and Mindanao, except for the yellow onion. Yellow onion, dito lang 'yan sa (this is only for) Luzon," he said.
The DA also assured that it will intensify its efforts to prevent the skyrocketing prices of onions in the market.
"On the off season, pagkatapos ng (after) harvest, let's see again. But the role of the Department of Agriculture's is dapat hindi na maulit itong sibuyas na December at saka 'yung ating holiday season, e sobrang mahal ng sibuyas (it should prevent the December level of onions supply status, during holiday season when onions are very expensive)," Estoperez said.
Not harming farmers
Contrary to the claims by some groups, the DA clarified that the entry of over 5,000 metric tons of imported onions will not have "detrimental" effect on the farmers.

"Kung ganun kanipis ang ating import, magiging distributed pa sa (If that's how thin the import [volume] is, and will still be distributed to) Luzon, Visayas and Mindanao, it will not hurt the farmers kasi bago ho kami mag-import (before we import), we considered the volume and the timing of arrival," Estoperez said.
"We have already approved the SPSIC na import. Hindi naman tayo mag-i-import ng (we will not import) 21,000, which is we're fortunate that it's not applied,' he added.
The DA said the entry of must-arrives is only set up until Friday or Jan.27, which matches the timing of peak harvest season expected to start in mid-February until April.
For now, the DA targets to continue visitation to onion-producing areas like Nueva Ecija and Occidental Mindoro, as well as check on the operations of cold storage facilities.
The visitation aims to help identify the cost of production for the proper setting of the price cap for retail costs.
"For the imported ones, dapat hindi siya bumaba dun sa (it should not be lower than the) cost of production, or else kapag bumaba sa cost of production, lugi na naman ang ating mga magsasaka (if its price drops, it will be disadvantageous for the farmers)," he said.
To date, the prevailing price in markets in Metro Manila ranges from PHP200 to PHP350 per kilogram for local red onions and local white onions; while PHP220/kg to PHP300/kg for imported white onions.
The DA earlier said the entry of imported onions and the peak harvest season may help drop the market price to PHP150/kg. (PNA)