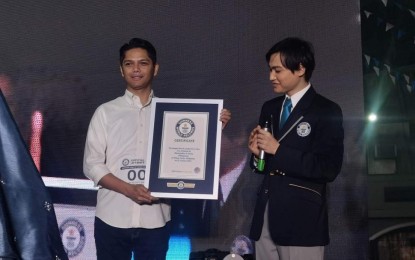 SILANG, Cavite – This town officially bumped off India as the record holder for the longest line of candles lit relay in the Guinness Book of World Records at the jampacked town plaza Sunday night.
India had held the title since 2016 for recording 366 lit candles but the Philippines broke this record with 621 lit candles in four hours.
Mayor Kevin Anarna said it was a hard-earned victory for his constituents.
"We chose to attempt this World Record for the Longest Line of Candle Lit in Relay to honor our patron saint, who is also known as Our Lady of Candles," he noted during the celebration at the plaza.
"We owe it to the people of Silang who exerted efforts coupled with prayers, and of course with the divine help of our patron, Saint Nuestra Señora de Candelaria," Anarna added.
The 2,500 participants who lined up the two-kilometer distance from the town plaza to the new municipal building hurdled stiff challenges of the feat, including strong winds and the rigid Guinness Book of World Records guidelines.
The Guinness Book of World Records title was awarded to the municipality immediately after the event by Official Adjudicator Kazuyoshi Kirimura.
Anarna hoped that the world record would attract more tourists and boost the economic growth of their town.
Meanwhile, Silang residents will hold a three-day feast to honor its patron saint on Feb. 1-3. (Rosell Calderon/PNA)