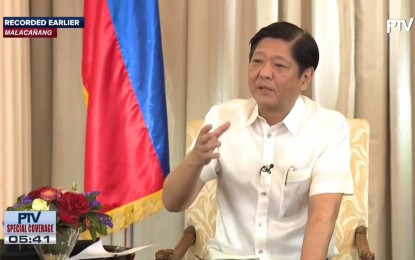 MANILA – President Ferdinand R. Marcos Jr. on Monday said he is planning to lessen his foreign travels this year to follow up on agreements signed during his previous trips.
In an interview with select reporters at Malacañan Palace, Marcos acknowledged his several overseas trips but said these are expected to yield a higher return on investment (ROIs).
Marcos has visited at least eight countries since assuming office such as Indonesia, Singapore, the United States of America (USA), Cambodia, Thailand, Belgium, China and Switzerland.
"...The way I see it, you have to look at it as ROI. Do we bring something back or do we not?" he said.
"For example, we came back from China with pledges of USD22 billion. Let's say we get actual out of that USD1 billion. Bawing-bawi lahat ng eight trips (Those eight trips would have been worth it) Finished. That's the idea," he added.
He underscored the need for his administration to promote the country as an investment destination not only to heads of states, but also to corporations and business leaders.
"Pag hindi tayo bumiyahe at nagpakita diyan sa mga conference na 'yan, hindi tayo iniisip, wala sa isip nila ang Pilipinas. Kailangan natin ipakita ang ano ang ating ginagawa para naman mapaganda ang potential investment nila na dadalhin sa Pilipinas (If we don't travel and introduce ourselves in these conferences, they won't think about us, they won't think about the Philippines. We need to show them what we're doing to help the country bring in potential investments), he said.
Marcos said it was also important for him to introduce himself to his counterparts around the world as the country's newest leader.
"I'm the new kid on the block, nobody knows who I am. Kailangan ko magpakilala (I need to introduce myself). It's important also na magkaroon ng personal sa mga leader (It's important also for leaders to meet in person)," he added.
After bringing home several investment pledges from his foreign trips which include his participation in global fora like the Association of Southeast Asian Nations (ASEAN) and Asia-Pacific Economic Cooperation (APEC) summits, Marcos said his administration will now prioritize consolidating and following up on these commitments.
"Medyo babawasan na namin for the rest of the year. Ang dahilan ay kailangan namin balikan lahat itong mga nasimulan sa ASEAN, APEC, China, pati pagpunta sa [European Union] sa Brussels, tapos itong biyahe sa Davos. Kailangan namin idetalye ang aming pinag-usapan (We will reduce our trips for the rest of the year. The reason is that we have to go back to all these things that were started in ASEAN, APEC, China, as well as going to the EU in Brussels, and then this trip to Davos. We need to elaborate on what we discussed)," he said.
"Hindi pa namin ginagawa dahil busy kami, pero at least mayroon kaming nauuwi. Ngayon, kailangan na natin iconsolidate, kailangan na natin ifollow up (We haven't had the chance to consolidate these because we're busy, but at least we were able to bring home these commitments. Now, we have to consolidate and follow up)," he said.
Marcos is set to visit Japan next month to meet with Prime Minister Fumio Kishida. He will also be attending the APEC Summit in the US in November.
Meanwhile, he also assured the public that his administration will eventually release a breakdown of how much was spent during his foreign trips when the data is available.
He also noted that "accountability and transparency" is not an issue among foreign business leaders.
"There will be accountability and transparency in everything that we do. It has not been an issue that the private business bring up. They bring up ease of doing business, they bring up the cost of energy, they bring up the problems of legislative guarantees. So the critics will have their say, but those who are actually contemplating putting good money into the Philippines have other issues. Accountability and transparency is not an issue," he said. (PNA)