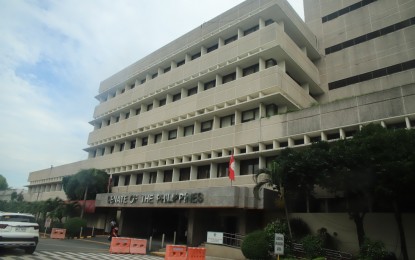 MANILA – President Ferdinand R. Marcos Jr. on Monday renewed his call for Congress to thoroughly review the proposed Maharlika Investment Fund (MIF), citing that getting it wrong would be "a very bad mistake."
Marcos made this remark after Senate President Juan Miguel Zubiri said he expects the bill establishing the MIF to be passed by the upper chamber on final reading after the Holy Week in March.
To recall, the House of Representatives passed House Bill (HB) 6608 or the proposed Maharlika Investment Fund (MIF) Act on its third and final reading on Dec. 15 last year. It was transmitted to the Senate on Dec. 19.
Government officials also promoted the proposed fund at the World Economic Forum in Switzerland last week.
"Suriin ninyo ng mabuti. Siyempre, mas maganda na matapos sa lalong madaling panahon, pero hindi naman dapat imadali dahil napaka importante (Review it carefully. Of course, it is better to finish as soon as possible, but it should not be rushed because it is very important)," Marcos said in an interview with select reporters in Malacañang Palace.
"Mas importante na maging tama kaysa maging mabilis (It's more important to be right than quick). We have to get it right. Getting it wrong would be a very bad mistake," he added.
He likewise expressed trust and confidence in the wisdom of senators, adding that they knew how to do their jobs.
Both houses of Congress are set to resume sessions on Monday and adjourn again on March 24 or before Holy Week.
Marcos likewise agreed with lawmakers saying that the use of money coming from government-owned and controlled corporations (GOCCs) for the proposed sovereign fund is not allowed under the law.
"You cannot use funds of the GOCC. Pera ng gobyerno 'yun (That's government's money), what will the government spend? It is a proposal. It's not something we have adopted," he said.
He explained that the idea of using GOCC money for the proposed MIF was first broached in Davos, Switzerland, but that he was "lukewarm" about the idea after having a conversation with Finance Secretary Benjamin Diokno.
"...We had a little meeting, it lasted about 15 minutes – and that was proposed. But after the meeting, I pulled Secretary Ben Diokno aside and I said, 'What do you think?' Sabi niya, 'Hindi yata puwede (I don't think it's allowed).' And I said, 'It's too disruptive.'
Earlier, Albay First District Rep. Edcel Lagman said the "reengineered" version of the MIF bill would go against a 1993 law requiring GOCCs to turn over half of their earnings to the national government.
Albay Second District Rep. Joey Salceda bared last week that he and three lawmakers revised the bill in December and wrote off the Bangko Sentral ng Pilipinas and the Development Bank of the Philippines as fund sources.
Meanwhile, Marcos allayed fears of possible money laundering, saying while private money will be involved with the fund, it's not a savings account where people park money where it stays.
"Now, whenever we come into partnership, we do a G2G (Government-to-Government) with Japan, for example, or we do a PPP (public-private partnership) with some big outfit, then that is only the time that the money has come into the fund to be used for the program…On our end, we will only deploy funds when there is a very specific project to be paid for. So money laundering just won't come into it," he said.
House Bill (HB) 6608 or the MIF Act seeks the establishment of an independent fund that will be sourced from the investible funds of select government financial institutions (GFIs), contributions of the national government, declared dividends of the Bangko Sentral ng Pilipinas and other funding sources.
The proposed MIF shall be used to invest on a strategic and commercial basis in a manner designed to promote fiscal stability for economic development and strengthen the top-performing GFIs through additional investment platforms that will help attain the national government's priority plans, the bill said. (PNA)