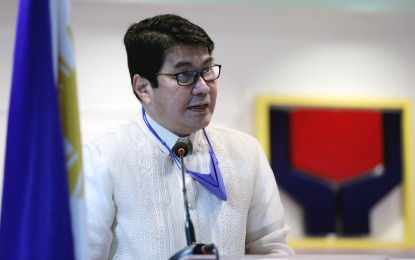 MANILA – President Ferdinand R. Marcos Jr. on Monday said he still wants to keep former Department of Social Welfare and Development (DSWD) Secretary Erwin Tulfo in his administration, noting that he still wanted to take advantage of his "good instincts."
In an interview with select reporters in Malacañang Palace, Marcos shot down speculations that Tulfo would be named one of his advisers.
"No, that's not been part of the plan for Erwin. We have other plans for him, not as a presidential adviser," he said.
He bared that he is still trying to find out what position he would be giving Tulfo after he was bypassed by the Commission on Appointments (CA) for a second time due to citizenship issues and previous libel convictions.
"Whatever we say, difficulties he faced with the committee on appointments or the CA, the time that he was running the DSWD, he did a very good job. So we can't lose that kind of asset so we'll find something that he can do so we can take advantage of his good instincts when it comes to social service," he added.
Marcos named Tulfo DSWD chief in May last year. DSWD Undersecretary Eduardo Punay currently serves officer-in-charge of the agency.
Angping's diplomatic post
Meanwhile, Marcos also defended his decision to nominate former Presidential Management Staff chief Zenaida Angping as the country's ambassador to France, with concurrent jurisdiction over Monaco.
To recall, the President allowed Angping to take a leave in December "to take some personal time for herself and her family," according to the Presidential Communications Office.
He said it was Angping herself who asked to be given a diplomatic position.
"...She came back and she said maybe I can just find something that will not – that I will be able to handle. And I said, 'What do you think?' And she said, 'If you could appoint me to a diplomatic position?'," Marcos said.
He acknowledged that Angping has not formally held a diplomatic position but has been working with the foreign service for several years.
Marcos also cited her experience working as long-time aide to his uncle Benjamin "Kokoy" Romualdez, who was once the Philippine ambassador to the United States, China and Saudi Arabia.
"Tao 'yan ng Uncle Kokoy ko (She used to work under my Uncle Kokoy). And she worked in the American embassy, the Philippine embassy in the United States. She worked in – she worked in well, China. She worked in all of the areas that we were slowly opening up. So sanay siya sa trabahong 'yan (So she's used to the job)," he added.
Angping was also a former representative of the third district of Manila.
Marcos' bucket list
Amid mounting calls for Marcos to name a full-time Department of Agriculture (DA) chief to address issues hounding the agriculture sector, he maintained that he was still needed in the agency.
"...There really are things that I can do that if there was a secretary and he or she did it, hindi – magagawa pero matagal, madaming diskusyon (they could do it but it would take time, there would be many discussions)… The President they cannot say no to. And 'pag hindi nila ginawa 'yung utos ko, puwede kong sitahin (And if they don't follow my orders, I can reprimand them)," he said.
He shared items he would need to achieve on his "bucket list" before he stepped down as DA chief and appointed a replacement such as aiding farmers, improving research and development (R&D) and adopting new crop varieties.
"In terms of production, we have to help the farmers… We are trying to adopt new techniques for farming that will actually, I think, that we will be able to use – new technology, new variety, start with the R&D," Marcos said.
He said he is also coordinating with several other countries in search of non-traditional suppliers, particularly for the supply of fertilizer, wheat, rice and corn.
"Hopefully down the road, in the few years, we no longer have to worry about non-traditional supply because we will be able to produce enough for ourselves," he added.
According to Marcos, the country's agriculture sector is facing multifaceted problems as demand overtook production, which put pressure on prices, leaving the government with no choice but to import.
"'Pag maayos na 'yan, that is one box that I've been – I will tell I've been able to tick… But we come back to the problem of production…Then, we will have a [DA] secretary who will then take my place and will implement that plan. Basta't alam nating nakakaintindi ito sa ating ginagawa. So those are the essential elements that I'm talking about," he said. (PNA)