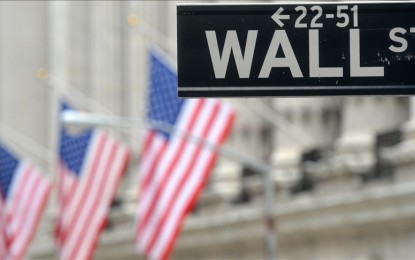 ISTANBUL – Major US stock market indexes rallied Monday to close at their highest levels in a month.
The Dow Jones Industrial Average rose 254.07 points, or 0.76 percent, to finish at 33,629.56. The S&P 500 added 47.20 points, or 1.19 percent to 4,019.81.
The tech-heavy Nasdaq jumped almost 224 points, or 2.01 percent, to end the first trading day of the week at 11,364.41.
The VIX volatility index, also known as the fear index, fell 0.2 percent to 19.81. The 10-year US Treasury yield rose 1.1 percent to 3.523 percent.
The dollar index added 0.06 percent to 102.07, while the euro increased 0.14 percent to USD1.0870 against the greenback.
Precious metals were mixed, with gold rising 0.3 percent to USD1,931 per ounce but silver shedding 2 percent to USD23.46.
Crude oil prices were up, with global benchmark Brent crude gaining 0.6 percent to USD88.16 per barrel and US benchmark West Texas Intermediate crude at USD81.68, a 0.05 percent daily gain. (Anadolu)