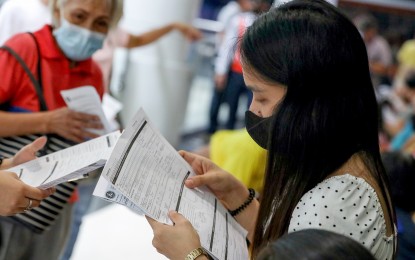 MANILA – The House of Representatives has joined the Register Anywhere Project of the Commission on Elections (Comelec) to boost the number of registered voters for future electoral exercises.
The House became the latest government entity to participate in the project after Speaker Ferdinand Martin Romualdez and Comelec Chairman George Erwin Garcia signed a memorandum of understanding (MOU) Tuesday at the Batasan complex in Quezon City.
"Our involvement in this laudable project is our modest contribution to the efforts of the Comelec to register as many voters as possible," Romualdez said.
"We encourage our House members, personnel and their dependents and relatives, as well as those of attached agencies, and our people in general to take advantage of this offsite or satellite listing project so they could exercise their right of suffrage in future elections," he said.
Other House and Comelec officials attended the MOU signing, with Mt. Province Rep. Maximo Dalog Jr., who chairs the Committee on Suffrage and Electoral Reforms, delivering the opening remarks.
Meanwhile, House Secretary General Reginald Velasco has informed members of the chamber, employees, congressional staff and personnel of attached agencies of the registration at the Batasan.
In a memorandum, Velasco said registration for House members and employees and personnel of agencies will be on Jan. 25 and 26, while registration for their dependents will be on Jan. 27, from 8 a.m. to 5 p.m.
The registration will be done at the North Wing Lobby of the Batasan complex. Those who will turn 15 years of age by Oct. 30, 2023 may register for the Sangguniang Kabataan election set on Oct. 30 this year.
Under the House-Comelec MOU, aside from the registration venue and similar requirements, the House would provide also a Covid-19 antigen test for 30 Comelec employees.
Meanwhile, the poll body would make available the needed personnel, registration machines, laptops and other equipment.
The Comelec would accept new registration, reactivation, transfer of registration, transfer from post to local in case of overseas voters and updating of records of senior citizens and persons with disability.
The Comelec is conducting offsite registration at the same time as its regular listing in all its field offices throughout the country.
Registration started last Dec.12 and will go on until the end of this month. (PNA)