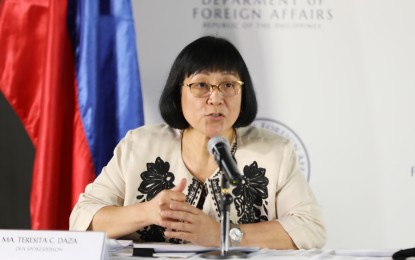 MANILA – Filipinos are free to fish in Ayungin Shoal as the area is part of the country's exclusive economic zone (EEZ) and continental shelf, the Department of Foreign Affairs (DFA) said Tuesday.
The statement came amid reports that the Chinese Coast Guard drove away a Filipino boat while fishing in the waters off Ayungin Shoal on Jan. 9.
"Ayungin Shoal is part of the exclusive economic zone and continental shelf of the Philippines. The Philippines is entitled to exercise sovereign rights and jurisdiction in the area, without any intervention from another country," DFA spokesperson Ma. Teresita Daza said.
"Filipino fishermen are free to exercise their rights and take whatever they are due under Philippine and international law, particularly the 1982 UNCLOS and the final and binding 2016 Arbitral Award," she added.
The Philippines has established a permanent presence in Ayungin Shoal in 1995 with the actively commissioned Philippine naval vessel, the BRP Sierra Madre, she added.
The DFA is currently waiting for official reports from relevant government agencies, which will be the basis for its diplomatic action on the incident.
Daza said the DFA monitors any developments in the West Philippine Sea, especially following the discussions between President Ferdinand R. Marcos Jr. and Chinese President Xi Jinping during the former's state visit to China.
The incident was reported to the Philippine Coast Guard on Jan. 20 by the Filipino fishing boat's (FFB) captain Lito Al-os, who said the Chinese Coast Guard vessel 5204 at that time maneuvered towards FFB KEN-KEN at a distance of approximately 800 yards and deployed a rigid hull inflatable boat (RHIB).
The CCG personnel onboard the RHIB gestured to the Filipino fishermen to leave the area, FFB KEN-KEN altered course and departed Ayungin Shoal.
The CCG, however, continued to shadow the boat while underway to Boxall Reef, the boat captain said.
The incident came days after the state visit of Marcos to China from Jan. 3 to 5, when he and his Chinese counterpart agreed to establish a direct line of communication for concerns related to the South China Sea.
Marcos said the Philippine government made immediate use of this mechanism following the incident.
The Chinese Embassy in Manila, meanwhile, has yet to provide a statement as of this posting. (PNA)