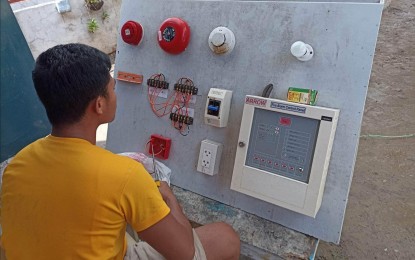 SAN JOSE DE BUENAVISTA, Antique – Twenty-five persons deprived of liberty (PDLs) under the Bureau of Jail Management and Penology (BJMP) here are now equipped with skills in electrical installation and maintenance (EIM) after a 25-day training.
Karyn Duay, head of the Technical Education and Skills Development Authority (TESDA) Antique provincial training center, in an interview on Tuesday, said the trainees belong to the special sector who availed of the training on EIM National Certificate II held at the BJMP premises starting Dec. 9, 2022 until Feb. 1, 2023.
"The skills training is being conducted so that the PDLs, upon their release from the BJMP, could find also a source of living as barangay electricians," Duay said.
As part of their training, the inmates also attended an entrepreneurial lecture to improve their marketing skills if they would prefer to be self-employed once they leave the facility.
Duay said the funding for the TESDA training under the Special Training for Employment Program (STEP) scholarship for the PDLs was an initiative of Antique Representative Antonio Agapito Legarda.
"The PDLs are being given allowance of PHP160 per day, tool kit, free assessment, aside from the entrepreneurship training," she added.
TESDA has been conducting skills training for PDLs at the BJMP here and Culasi town but was temporarily shelved due to the health pandemic.
"The EIM training is the first that we are conducting at the BJMP post-pandemic," she said.
The Antique Electric Cooperative, the lone power distributor in the province, has ongoing hiring of barangay electricians who are holders of the TESDA EIM National Certificate II. (PNA)