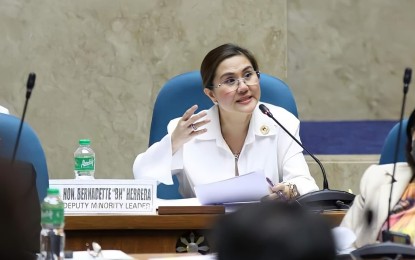 MANILA – A lawmaker on Tuesday welcomed the recent "improvements" made to the proposed Maharlika Investment Fund (MIF), noting that this version would be more doable and sustainable.
Bagong Henerasyon Party-list Rep. Bernadette Herrera said the revised bill on the sovereign wealth fund has dropped the Bangko Sentral ng Pilipinas and Development Bank of the Philippines as funding sources.
Herrera said limiting the number of fund sources to a part, not all the dividends, of a select list of government-owned and -controlled corporations (GOCCs) whose dividends are not reserved or restricted by law would entail much fewer legal and financial complications.
"A welcome development is that of the Bangko Sentral ng Pilipinas and Development Bank of the Philippines being dropped as a funding source," Herrera said. "Sourcing from some of the GOCCs, and only in part, is doable, sustainable and with much fewer legal and financial complications."
She said the Department of Budget and Management should identify which agencies would be affected and by how much, by the channeling of the GOCC dividends from their current purposes as part of the General Fund and Special Purpose Funds to the proposed sovereign wealth investment fund.
"Knowing all these details will enable us in Congress to prepare ahead of time for the 2024 budget cycle. Awareness thereof is necessary to make sure the most important budgets for the Filipino people remain intact and adequately funded," she added.
President Ferdinand R. Marcos Jr., meanwhile, renewed his call for Congress to thoroughly review the proposed MIF, citing that getting it wrong would be "a very bad mistake."
Marcos made this remark after Senate President Juan Miguel Zubiri said he expects the bill establishing the MIF to be passed by the upper chamber on final reading after the Holy Week in March.
The House of Representatives passed House Bill (HB) 6608 or the proposed Maharlika Investment Fund (MIF) Act on its third and final reading on Dec. 15 last year. It was transmitted to the Senate on Dec. 19.
"Suriin ninyo ng mabuti. Siyempre, mas maganda na matapos sa lalong madaling panahon, pero hindi naman dapat imadali dahil napaka importante (Review it carefully. Of course, it is better to finish as soon as possible, but it should not be rushed because it is very important)," Marcos said in an interview with select reporters at Malacañang Palace on Monday.
"Mas importante na maging tama kaysa maging mabilis (It's more important to be right than quick). We have to get it right. Getting it wrong would be a very bad mistake," he added.
Marcos also agreed with lawmakers, saying the use of money coming from GOCCs for the proposed sovereign fund is not allowed under the law.
"You cannot use funds of the GOCC. Pera ng gobyerno 'yun (That's government's money), what will the government spend? It is a proposal. It's not something we have adopted," he said.
He said the idea of using GOCC money for the proposed MIF was first broached in Davos, Switzerland, but that he was "lukewarm" about the idea after having a conversation with Finance Secretary Benjamin Diokno.
Earlier, Albay First District Rep. Edcel Lagman said the "reengineered" version of the MIF bill would go against a 1993 law, requiring GOCCs to turn over half of their earnings to the national government. (PNA)