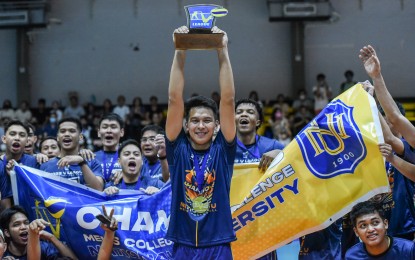 MANILA – The National University (NU) Archipelago Builders begin their title defense against the Vanguard Volley Hitters in the second match of the Spikers' Turf Open Conference elimination round at the Paco Arena on Wednesday.
The Builders will have to rely on holdovers Mac Bandola, Joseph Bello, Marco Maclang and Ahmad Abdul in the absence of four key players when they battle the Volley Spikers at 6 p.m.
Star players Nico Almendras, Ave Retamar, Kennry Malinis and Michaelo Buddin -- who were instrumental in NU's title victory at the V-League Collegiate tournament last year, will not see action as they are gearing up for the UAAP next month.
"We have young players so it's hard to say how the team will perform in this tournament," head coach Ariel Dela Cruz said on Tuesday. "We will do our best, that is for sure."
Leading the Volley Spikers are Vince Abrot, Joven Camaganakan, John Diwa, Razzel Palisoc and Romeo Teodones.
Meanwhile, comebacking Philippine Air Force takes on newcomer in D'Navigators Iloilo at 4 p.m.
The Jetspikers, who skipped last year's edition, will bank on three-time best setter Jessie Lopez and two-time league MVP Ranran Abdilla, while D'Navigators will be spearheaded by former Santa Rosa City standout Jade Disquitado.
Games of the tournament organized by Sports Vision are telecast live on One Sports, One Sports+, Cignal Play, and SMART Live Stream.
Imus City and Philippine Army won their opening-day matches last Sunday. Louie Ramirez scored 17 points as the Imus AJAA Spikers survived the Sta. Rosa Lions, 25-22, 28-26, 29-31, 25-16, while Patrick John Roxas had 18 attacks and one ace in the Army Troopers' 25-23, 10-25, 20-25, 25-22, 15-12 victory over the Navy Spikers. (PNA)