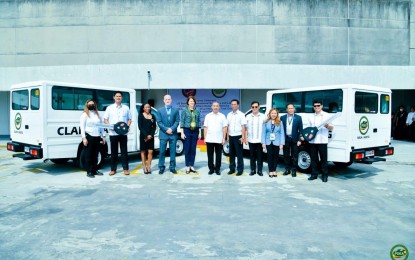 MANILA – The United States government donated two vehicles worth PHP2.1 million to the Philippine Drug Enforcement Agency (PDEA) to support the country's anti-drug trafficking efforts, the US Embassy in Manila said Tuesday.
The vehicles, donated by the US Department of State's Bureau of International Narcotics and Law Enforcement Affairs (INL), will help PDEA's Inter-Agency Drug Interdiction Task Group (IADITG) in its efforts to prevent the entry and exit of illegal drugs as well as substances used to manufacture them through the Ninoy Aquino International Airport and Clark International Airport.
The vehicles will boost the mobility of law enforcement personnel and transport narcotics-detection dogs in both airports.
"The United States is committed to this partnership, through which we believe we can foster and enhance the international cooperation needed to effectively combat transnational criminal networks and drug trafficking," INL Acting Principal Deputy Assistant Secretary Lisa Johnson said at the turnover ceremony in Manila on Jan. 19.
The IADITG was established to bolster the government's efforts to address drug interdiction challenges in major entry points.
In 2021, Clark IADITG seized a total of 3.34 kilograms of shabu (methamphetamine) worth PHP22.3 million (USD410,000) while NAIA IADITG seized a total of 8.96 kilograms of shabu worth nearly PHP60 million (USD1.1 million).
PDEA thanked the US government for its continued support to the agency's campaign to stop the transit of illegal drugs through the Philippines.
The vehicle donation is part of a broader INL counternarcotics program in the Philippines through partnerships with PDEA and other agencies, the US Embassy said. (PNA)