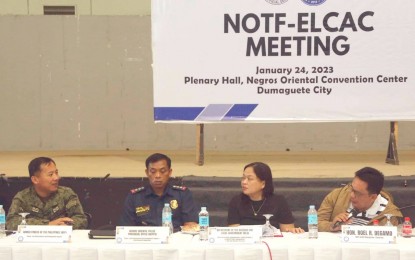 DUMAGUETE CITY – The provincial government of Negros Oriental on Tuesday formally reorganized its Task Force to End Local Communist Armed Conflict (TF-ELCAC) pursuant to the guidelines of Executive Order No. 70 of former President Rodrigo Duterte during a meeting at the convention center here.
Governor Roel Degamo, Negros Oriental TF-ELCAC chair, told reporters in an interview on Tuesday that based on EO 70, the Provincial Development Council (PDC) and the Provincial Peace and Order Council (PPOC) will be the members of the task force.
"This means that all mayors, civil society organizations, and other members of the PDC and PPOC are now included in the task force", he said.
"So this is now an expanded membership for the Task Force ELCAC," he added.
During the task force's first meeting for this year, the 12 different clusters reported on their individual accomplishments for 2022 under whole-of-nation approach for inclusive and sustainable peace.
These included localized peace engagement activities, enrollment of former rebels to the Enhanced Comprehensive Local Integration Program (E-CLIP), distribution of basic services, financial and livelihood assistance, technical and skills training, capacity building empowerment and mobilization, legal cooperation, peace, law enforcement, and development support, and local government, among others.
One of the highlights of the meeting was the planning of the upcoming Serbisyo Caravan of the seven additional barangays that are targeted under the Retooled Community Support Program (RCSP) of the Department of the Interior and Local Government (DILG).
These are Barangays Milagrosa, Nagbalaye, Nagbinlod and Talalak in Sta. Catalina town; Pula in Canlaon City; and Apoloy and Mantikil in Siaton town.
DILG Provincial Director Farah Diba Gentuya said these areas were cleared by the Philippine Army for inclusion in the RCSP, one of the government's mechanisms to implement NTF-ELCAC programs in conflict areas.
Degamo said there is a need to strengthen activities that bring the government's basic services to the people, particularly in the hinterland barangays, to further reduce the insurgency problem in the province.
The budget for TF-ELCAC this year is higher than the previous years, he said, although he did not yet mention a specific number given that the provincial board is still deliberating on the province's executive budget for 2023.
Degamo called on all the members of the TF-ELCAC to work harder this year to attain the ultimate goal of lasting peace once the communist insurgency has ended.
"We are now about 80 percent towards gearing a zero insurgency so let's work hard to reach this goal," the governor said. (PNA)