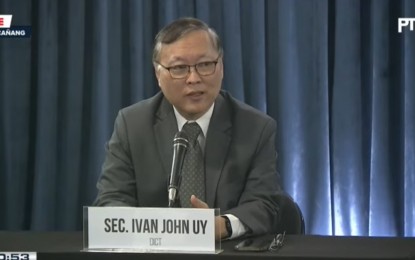 MANILA – The Department of Information and Communications Technology (DICT) is set to hold subscriber identity module (SIM) registration caravans in several remote areas in the country.
Speaking at a Palace briefing on Tuesday, DICT Secretary Ivan John Uy said the caravan will run from Wednesday to Friday in 15 locations across several provinces.
"The caravan will serve the Ilocos Region, Central Visayas, Eastern Visayas, Northern Mindanao, and Davao Region. The sites will be in Ilocos Norte, Cebu, Leyte, Bukidnon, and Davao del Sur – mostly at municipal auditoriums," Uy said.
On Wednesday, the SIM registration caravan will visit the municipal auditorium of Pasuquin in Ilocos Norte, the municipal hall of Moalboal in Cebu, the municipal Gym of Palo in Leyte, the municipal gymnasium of Pangantucan in Bukidnon and the covered court of Malalag in Davao del Sur.
On Thursday, it will be at the basketball court in Atok, Benguet, Camalaniugan Sports Complex in Cagayan, the municipal covered court of Calumpit in Bulacan, Luancing covered court in Batangas, and the covered court at Barangay Arena Blanco in Zamboanga City.
On its third day, the caravan will visit the Barangay Santa Rosa 1 covered court in Baco, Oriental Mindoro, Barangay Paulba covered court in Ligao City, Albay, Carles covered gym in Iloilo, Emergency Operations Center in Arakan, Cotabato, and Tagbina municipal gym in Surigao del Sur.
The caravan, he said, will help address the lack of connectivity in these areas needed to register their SIM cards online.
Aside from the lack of connectivity, another challenge in SIM registration is the lack of government-issued IDs.
In response, he said the government is looking to hold simultaneous SIM card and National ID system registrations in more remote areas.
"Right there, pagka-rehistro ng National ID, mag SIM card registration na rin sila (Right there, after registering for a National ID, they can also register their SIM card). So, we shoot two birds with one stone," he said.
Earlier, the Department of Justice (DOJ) announced the rollout of National Bureau of Investigation (NBI) one-stop shops where the public can secure their NBI clearance that can be used in SIM registration.
The Department of the Interior and Local Government (DILG) has also called on local government units to "exert all efforts" to promote the responsible use of SIM cards, to help educate on the benefits of SIM registration, and to help the public in the whole SIM registration process.
As of Tuesday, a total of 24,572,555 SIM cards have so far been registered—making up 14.54 percent of the 168,977,773 active SIMs in the country. (PNA)