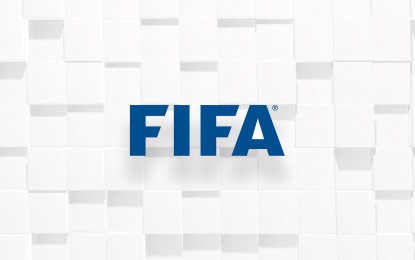 MANILA – Filipino football fans will get a glimpse of the FIFA Women's World Cup (WWC) championship trophy as the Philippines has been named one of the stops of the FIFA WWC Trophy Tour.
Philippine Football Federation secretary general Ed Gastanes announced the development on Tuesday during the Philippine Sportswriters Association Forum at the PSC conference room at the Rizal Memorial Sports Complex.
However, he kept mum on when the trophy will arrive in the Philippines.
"I cannot announce the dates yet because it will be FIFA that will announce it," said Gastanes, but added the trophy will be displayed in an undisclosed place for two days.
The event is already historic as the Philippines booked a spot in the 2023 edition of the WWC, the first time a Filipino squad has made it to any FIFA World Cup main tournament.
The Philippine women's football team, also known as the Filipinas, qualified after making the semifinals of the AFC Women's Asian Cup, beating Chinese Taipei on penalties in the quarterfinals.
The Filipinas have since become a rising force not just in Southeast Asia—by virtue of capturing the bronze in the Southeast Asian Games in Hanoi and ruling the AFF Women's Championship also at Rizal Memorial—but in the whole world as evidenced by their blowout wins and gallant stands throughout 2022.
The significant buildup for the FIFA WWC begins next month as the Filipinas will face Iceland, Scotland and Wales in the Pinatar Cup at the Pinatar Arena in San Pedro Del Pinatar, Spain.
The Filipinas will also seek to improve their third-place finish last year in Hanoi in the Phnom Penh SEA Games this May before they travel to New Zealand to face the home squad, Norway and Switzerland in the group stages of the FIFA WWC in late July. (PNA)