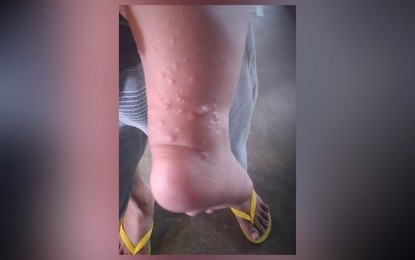 ILOILO CITY – The Iloilo Provincial Epidemiology and Surveillance Unit (PESU) has recorded 224 suspected cases of hand, foot and mouth disease (HFMD) in 24 towns from Jan. 1 to 22 this year.
PESU data showed there were only two recorded cases of the disease in the province during the same period last year.
Provincial Health Office (PHO) head, Dr. Ma. Socorro Quiñon, in a media interview on Tuesday, said "our children are the most commonly affected" with 202 of the cases belonging to the one to 10 years age group, 13 cases below one-year-old, six are from 11-to 20-year age group, two are 31-40 years old, and one in the 41-50 years old group.
The municipality of Pavia has the highest number of cases with 29 but is expected to increase with the detection of additional new cases; Barotac Viejo, 23; San Dionisio, 21; Bingawan, 20; Calinog,; 16; Barotac Nuevo, 15; Lemery, 13; Leon, 12; Pototan, 10; nine each in Santa Barbara, Banate and Lambunao while the rest of the cases are spread in other municipalities.
Quiñon said HFMD is contagious, especially when there is contact with lesions, thus separate use of utensils, toys and other personal items has to be observed.
The disease can be prevented through observance of the minimum health protocol such as frequent handwashing or hand hygiene, avoiding close contact with those infected, use of face masks, and proper disposal of the waste generated by the infected person.
Infected individuals are advised to avoid face-to-face activities such as going to school, until such time that the visible lesions are healed and there is no fever.
The HFMD is usually mild and there is no need for admission unless the infected person gets dehydrated. If symptoms do not heal after 10 days, a doctor should be consulted.
Quiñon, however, warned of the risk of abortion or miscarriage, or stillbirth for pregnant women, especially if they are nearing their term.
"That is why there is a need for prenatal and surveillance for the child to avoid the complications of the hand, foot and mouth disease," she said. (PNA)