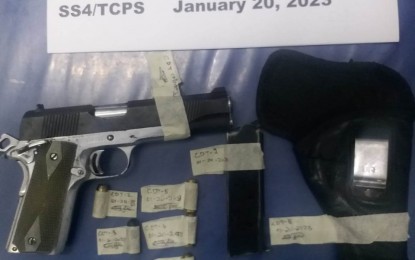 MANILA – The Taguig City Police on Wednesday announced the recent arrest of an alleged member of the notorious "Tiñga Drug Syndicate".
In a statement, city police chief Col. Robert Baesa said Bernardo Tiñga, 56, was arrested in a buy-bust in Barangay Ususan on Jan. 20.
During the operation along P. Mariano Street, the suspect yielded some PHP95,000 worth of shabu, an unlicensed .45 caliber pistol, six .45 caliber ammunition and an empty .45 caliber magazine.
Tiñga has a standing arrest warrant on drug charges issued by the Taguig City Regional Trial Court Branch 15.
"Taguig has a very strong anti-illegal drugs stance. In fact, Mayor Lani Cayetano herself has a marching order for the city to be rid of these illegal substances. We assure the public that the Taguig Police will not rest until we achieve this goal," Baesa said.
The city police has been credited for placing prominent members of the Tiñga Drug syndicate and other high-value drug personalities behind bars.
During its heyday, the syndicate was known as a big-time organized group that operated not only in Taguig but also in other parts of Metro Manila.
One of the syndicate's members, Joel Tiñga, was sentenced to reclusion perpetua (up to 40 years imprisonment) for drug charges in 2016.
Another member of the syndicate, Elisa "Ely" Tiñga, wife of Noel Tiñga who is a cousin of former Taguig Mayor Freddie Tiñga, was meted the same punishment in February 2017.
She was at that time the third most wanted person on the list of illegal drug personalities.
She was also the seventh member of the drug ring to be arrested and jailed.
In 2020, a buy-bust led to the seizure of over PHP20 million worth of shabu and resulted in the arrest of another member Patrick Ace Tiñga. (PNA)