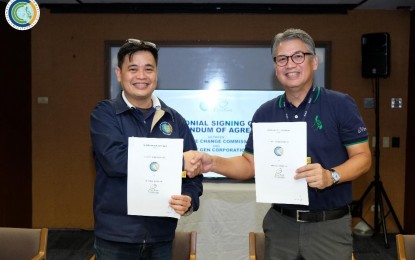 MANILA – The Climate Change Commission (CCC) and power generation firm, First Gen Corporation, have signed a memorandum of agreement (MOA) to help local government units (LGUs) in implementing their climate change mitigation and adaptation programs.
CCC vice chairperson and executive director, Robert Borje, and First Gen president and chief operating officer, Francis Giles Puno, led the ceremonial signing of the MOA at the Eugenio Lopez Center in Antipolo, Rizal on Tuesday, the commission said Wednesday in a news release.
The MOA, the CCC said, will capacitate the LGUs to mainstream climate change adaptation into national development and gain access to the People's Survival Fund (PSF), an annual fund for the implementation of climate change adaptation projects.
The CCC said its partnership with the First Gen will benefit representatives from Maria Aurora town, Aurora province; Pantabangan and Carrangalan towns in Nueva Ecija; Alfonso Castañeda, Nueva Vizcaya; Lobo, Batangas; Caramoan and Garchitorena in Camarines Sur; Baungon, Impasug-ong, Libona, Manolo Fortich and Talakag in Bukidnon; and Jabonga in Agusan del Norte province.
The deal would develop PSF project proposals and enhance the LGUs' Local Climate Change Action Plans (LCCAPs), including the updated climate and disaster risk assessments and greenhouse gas inventory, the CCC added.
"This collaboration forms part of both the CCC and First Gen's shared advocacy for strengthening local communities' resilience to climate change and its impacts," the CCC said.
As of Jan. 19, around 81.57 percent or 1,399 out of 1,715 LGUs have submitted their LCCAPs to the CCC.
The CCC expressed optimism that through partnerships and capacity-building initiatives, the LGUs' "100 percent compliance" is attainable by 2024.
"Our LGUs, down to the barangays (village officials), are at the frontlines of climate change and its impacts. They need all the help they can get to have a fighting chance, but they also need transformation," Borje said.
"We don't want them to just adapt, we want them to thrive and grow, and this particular agreement—through formulation of LCCAPs and capacitating them to access the PSF—will exactly do that," he added.
Puno said the signing of MOA with CCC is in line with First Gen's commitment to address climate change.
"Our mission of forging collaborative pathways for a decarbonized and regenerative future simply means that we cannot do it alone. Signing an agreement with the Climate Change Commission is completely aligned with what our company is trying to do, in addressing an important challenge that's ahead of us – climate change," he said.
Under the MOA, the CCC and First Gen will also strengthen initiatives that involve key stakeholders to promote science- and evidence-based risk assessment and sustain climate-smart leadership and governance among the target beneficiaries.
Borje said the ultimate goal of the partnership with First Gen is to safeguard the national interests, which include the "life, livelihood, and future" of all Filipinos.
"That's all we have to plan for, but it takes more than a village to do this. We need to work very closely together, and this partnership is key to making that happen," he said.
Following the MOA signing, seedlings of Narra, Ipil, Banuyo and Supa trees were planted at the BINHI Arboretum to kick-off the partnership. (PNA)