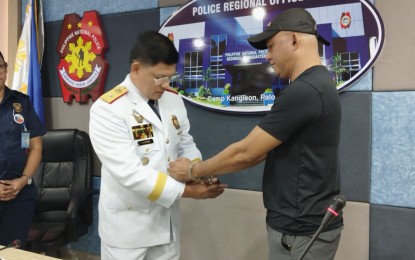 TACLOBAN CITY – A former regional director of the Philippine Drug Enforcement Agency (PDEA) accused of being involved in illegal drugs surrendered on Wednesday to the Philippine National Police regional office here.
Tagged as a high-value target, Erwin Ogario, former PDEA-National Capital Region (NCR) head, showed up at the office of PNP regional director Brig. Gen. Rommel Francisco Marbil after receiving death threats.
"He showed up since he has been getting death threats. We just found out that he has a warrant of arrest issued by a court in Quezon City. His voluntary surrender manifests his trust and confidence in our system and leadership," Marbil told reporters.
Marbil handcuffed Ogario after the reading of his warrant of arrest. After booking procedures, he will be turned over to the Quezon City court.
Ogario is facing charges over the importation of dangerous drugs violating Section 4, Article II of the Comprehensive Dangerous Drugs Act.
Judge Elvira Panganiban of Quezon City Regional Trial Court Branch 227 issued an arrest warrant against Ogario on Jan. 3, 2019.
Marbil said Ogario recently stayed with his family in Eastern Samar province.
Marbil had a meeting with Ogario between 2014 and 2015 when the latter was the PDEA Region 13 director and the former was the Agusan del Norte police provincial director.
Ogario was the PDEA regional director of NCR when he was dismissed from service in 2017 as part of the agency's internal cleansing efforts.
He was held liable for obstruction of justice for facilitating the release of an arrested drug importer after claiming a parcel containing 1,358 ecstasy tablets at a post office in Pasay on June 29, 2015, without filing any criminal charge against the suspect.
In 2021, former President Rodrigo Duterte tagged Ogario as one of the PDEA officials who accepted bribes from arrested drug personalities to facilitate their release from detention and the dismissal of cases filed against them. (PNA)