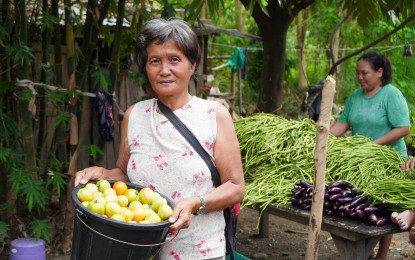 ABRA DE ILOG, Occidental Mindoro – Farmers in this town who have been benefiting from the Department of Agriculture-Special Area for Agricultural Development (DA-SAAD) program are urging members of the Indigenous Peoples (IPs) community to take part in the undertaking and earn extra income for their families while putting food on their table.
"Yung mga katutubo na walang lupa, puwede silang magtanim doon [sa bakanteng lupa] para mas lumaki rin ang production ng samahan at kumita rin [ang mga katutubo] (IP farmers who do not have their own land may use the available lot to boost the association's production and earn at the same time)," Nelly Alcantara, chairperson of Mabunga Vegetable Vendors Association (MVVA), said in an interview on Wednesday.
MVVA farmers not only secure food for their families, they also share their harvests with the IP community members in their area, Alcantara said.
She said the MVVA has been reaping the benefits of the DA-SAAD program since last year, and noted that they harvested a total of 8,631 kilos of assorted vegetables for the second cycle of production from May to November.
The farmers earned a PHP355,340 net income for the period while securing nutritious food for their families, she added.
Alcantara said the group was able to harvest 575 kilos of bitter gourd (ampalaya); 735 kilos of chili (sili); 6,600 kilos of eggplant (talong); 360 kilos of string beans (sitaw); 111 kilos of tomatoes (kamatis); and 250 kilos of squash (kalabasa).
MVVA has 32 members who rely on vegetable production as their primary livelihood. Eight members own lands for production while the others contribute by providing labor for planting, harvesting and marketing.
The farmer's association is one of the recipients of the Vegetable Production Project FY 2021 of the SAAD program to boost vegetable production and access in the community.
Through the project, the group has recorded savings of up to PHP137,300 on food and labor expenses as they used a portion of their harvest equivalent to 2,510 kilos of assorted vegetables for the food consumption for their families and farm workers.
Creating a learning space for the farmers, Alcantara conducts informal farming lectures on her gained experience from the field such as proper crop placement to prevent pollen transmission and crop rotation to care for the soil and diversify vegetable products.
She said she plans on lending a portion of her land to the farmers with no land of their own as she expands her plantation from the fruit of her last year's vegetable harvest.

Integrated farming
Through the MVVA's earnings, the group now also produces seeds, pesticides and fertilizers to gradually expand its plantation and sustain large production of vegetables and other high-value crops.
According to Alcantara, the group has cultivated small portions of their land, with a two-hectare (ha) consolidated area before SAAD program's intervention because they could not afford to cover larger production costs.
"Noon, tama na 'yung isang tudling na pagtataniman namin dahil wala kaming pambili ng mga binhi (Before, we had to make do with a small portion of land in which to plant because we had no fund for seeds)," Alcantara recalled.
Through the SAAD program, hand-in-hand with the Municipal Agriculture Office of Abra de Ilog, the group received inputs and farm equipment, enabling them to cover an additional three has of production for a larger yield.
"Dati kakaunti lang ang naani namin. Pero ngayon, malaki na rin ang inasenso [namin] (We were only able to harvest a few vegetables before. But now, we have improved significantly)," Alcantara further shared.
She also mentioned that the association is eyeing to expand their production area threefold, or up to 15 has to increase their harvest.
Currently, there are several members engaged in watermelon and onion production as part of their crop rotation strategy while preparing for the next cropping season of vegetables for 2023.
This includes purchasing vegetable seeds and planning their crop rotation for healthier yield.

Swine production
Meanwhile, following the advice of former National SAAD program Director Myer Mula, the group also received in November last year a swine production project worth PHP992,000 as complimentary livelihood activity to vegetable production.
The project includes 160 bags of hog breeder feeds, 10 bags of hog grower feeds, 20 heads of gilts, and one boar.
This is an integrated farming approach utilizing rejected vegetables as animal food, reducing production waste and cutting operation costs for swine raising.
Eleven pigs are currently pregnant and four of them are expected to give birth in the first week of April.
Alcantara shared that the group will be experimenting on composting pig manure to be used as organic fertilizer for their vegetable plantation.
The association targets to start their production cycle in February. Preparations such as germinating vegetable seeds and construction of trellises are ongoing.
MVVA is situated in Sitio Bungahan, Barangay Cabacao here and has farmer-members of mixed descent such as Tagalog, Ilocano and some IPs, who focus on producing high-value crops such as "pinakbet" vegetables -- ampalaya, talong, upo, sitaw, sili, and kamatis.
The group became part of the SAAD program in 2021, receiving PHP950,000 worth of vegetable production project inputs. (PNA)