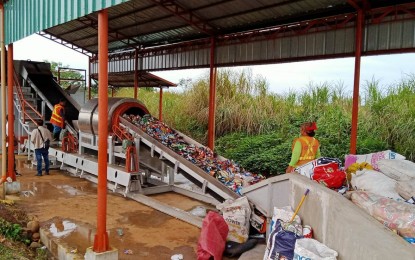 LEGAZPI CITY – After almost two months of civil works, the first granular plastic shredding machine in this city has finally become operational.
Benjo Calleja, Office of City Environment and Natural Resources (OCENR) officer-in-charge, on Wednesday said the machine would be used to shred plastic waste to prevent its burning in the households and consequently reduce the volume of garbage in the city.
"The shredding of plastic is part of the implementation of the city's Healthy Ocean and Clean Cities Initiatives facilitated by the United Nation Human Settlement Program (UN-Habitat) and of the marine plastic litter abatement (MPLA) initiative, integrating economic incentives and smart waste management solutions to promote reduce, reuse and recycle (3Rs) materials. Also, this is part of the clean air program of the city government that aims to reduce the air pollution which destroys the ozone layer," Calleja said.
He said the civil works of the building were supervised by the City Engineering Office (CEO) within a 12x5-meter land area adjacent to the building of the earlier-built Japan Sustainable Composting Facility in Barangay Banquerohan here.
"The machine can shred five tons of plastics daily in eight hours. All the shredded waste materials will be put into a cell in the landfill facility that will increase the compaction rate and prolong the lifespan of the garbage place. The cell is part of the sanitary landfill wherein all the residual waste was deposited. All the residual waste materials collected by the eco aides and scavengers were deposited in the cell of the sanitary landfill," Calleja said.
He said the city government is also planning to put up a molding machine that can be used for compressing the shredded plastics into hollow blocks and also for the making of plastic chairs and tables, among other products, to become part of the livelihood activities.
City Engineer Noel Encinares, in a separate interview, said around PHP9 million has been appropriated by the city government for the installation of the machine, including the commissioning and training of personnel for the operation of the equipment, while another PHP200,000 has been used for the construction of the building and roads.
"There was a short delay for the assembling process of the machine by the supplier due to the continuous heavy rains for the past months," Encinares said.
Around 166 cubic meters of residual plastic waste materials are being collected daily from households and other business establishments by the so-called "eco aides" of different villages, particularly in the downtown areas and central business district of Legazpi. (PNA)