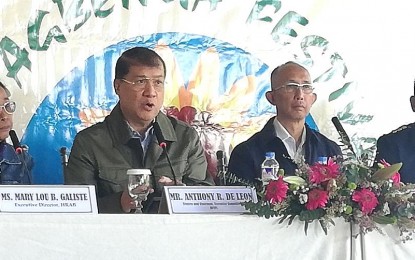 BAGUIO CITY – Organizers on Tuesday said that everything is set for the grand opening of the 2023 Panagbenga or Baguio Flower Festival on Wednesday next week (Feb. 1).
Anthony de Leon, chairman of the executive committee, in a press conference at the Baguio Country Club (BCC) said they have been preparing for the festival as early as last December. Organizers have been working with the local government and participating groups to stage the month-long festival.
"In terms of preparation for the grand opening parade, we are all set. We have already mobilized volunteers and all sub-committees are up and going," he added.
Panagbenga, a kankanaey word meaning "blossoming," started as a community event in 1995 to boost the city's economy following the devastation left by the 1990 killer earthquake that left the place and the economy in rubbles.
"The media partners are ready, including the traffic and peace and order plans," De Leon added.
Authorities said 1,650 police officers will be deployed to maintain peace and order during the festival. All roads in and around the central business district are expected to be closed to traffic, including Session Road, South Drive, Magsaysay Avenue, Harisson Road, Lake drive and Mabini Street.
The grand street dancing and float parade will be held on Feb. 25 and 26.
"The grand parades will be challenging and we will do that as soon as the opening parade is done. We are confident that just like any festivals we had in the past, we will be okay," the official said.
Evangeline Payno, chief of staff of the festival's executive committee, in the same press conference said that three elementary schools and eight open cultural performance groups, aside from several marching bands and performing contingents, will be joining the grand opening parade. (PNA)