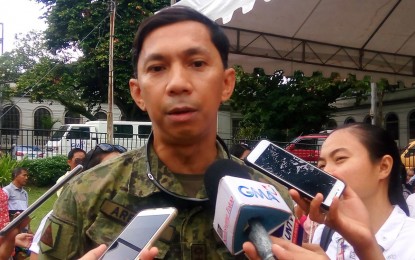 CEBU CITY – The Armed Forces of the Philippines' Visayas Command (Viscom) on Wednesday said the Communist Party of the Philippines-New People's Army (CPP-NPA) is now suffering a leadership vacuum after losing several key personalities in a series of encounters with government troops.
Major General Benedict Arevalo, Viscom chief, said the communist terrorist groups in the Visayas are losing their hold as their armed capability has "drastically degraded" apart from also losing their leaders.
"These are apart from the increasing number of former CTG supporters and sympathizers in the region who withdrew their support from the terrorist group," Arevalo said.
The Viscom chief expressed hope the group would totally weaken should more CPP-NPA officials, especially those from Eastern Visayas, fall to the government.
Arevalo cited the latest development involving the withdrawal of support of 93 individuals who were members of the CTG Affiliated Mass Organizations (CAMOs) in Alangalang town, Leyte province.
The mass withdrawal of support was realized through the active partnership between and among security forces, local government units, and other government line agencies through the Provincial Task Forces to end local communist armed conflict.
Prior to the mass withdrawal of support, members of the 87th Infantry Battalion of the Philippine Army unraveled an arms cache of the communist terrorist at Barangay Sto. Niño in Paranas town, Samar province.
The discovery of an arms cache containing two M653 rifles, an M4 rifle, an M16 rifle, four long magazines, and a short magazine was the result of information provided by a former rebel to the government troops.
On Jan. 12, a mass surrender of the members of the NPA including their leaders occurred in Hinabangan town, Samar wherein 13 communist terrorists under Bugsok Platoon of Sub-regional Committee Sesame (SRC Sesame) of the Eastern Visayas Regional Party Committee (EVRPC) operating in the towns of Calbiga and Basey, also in Samar, return to the folds of the law and yielded 13 firearms along with several other war materiel and medical supplies. (PNA)