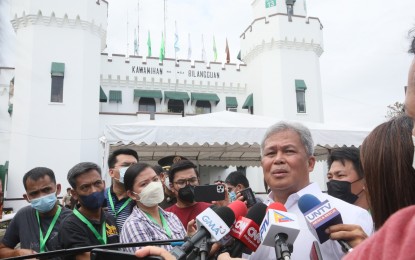 MANILA – Prison officials are probing the huge amount of cash in prison guards' lockers and are set to meet with the Anti-Money Laundering Council (AMLAC) officials to consolidate the government's case for plunder against embattled former Bureau of Corrections (BuCor) director general Gerald Bantag.
In a television interview with CNN on Wednesday, BuCor Director Gregorio Catapang said he will meet shortly with AMLAC to beef up case for plunder filed against his predecessor, Gerald Bantag, in connection with the alleged anomalous construction project at the New Bilibid Prison (NBP).
"Today, we will be having a meeting with the AMLAC and we will ask them how to go about this because we already have the evidence that indeed about PHP300 million was released even if the project is not yet finished," Catapang said. "The project is only 60 percent finished but the people of Bantag declared that this is already 95 percent finished."
"We will be talking with AMLAC and we will ...request them to look into the funds, bank accounts of Bantag and his family in as much as these can be hidden in their bank accounts," he added.
Meanwhile, Catapang said up to 30 prison guards have been placed under preventive suspension after an inspection of their lockers bared excessive amounts of cash.
"So there is an ongoing investigation about this . We will file appropriate charges for the guards who are doing illegal activities inside the BuCor," Catapang said.
He noted that online cash transactions are unavoidable and persons deprived of liberty (PDL) are allowed to keep around PHP2,000 in cash especially those for medical maintenance expenses.
He said the system had been abused with excessive charges on cash transfers and the cash ending up with prison guards. (PNA)