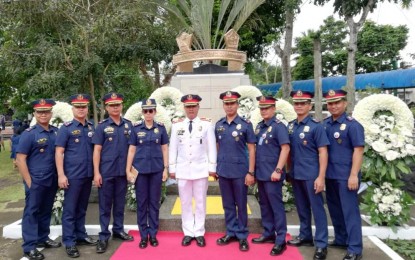 LEGAZPI CITY – The Police Regional Office in Bicol (PRO5) on Wednesday remembered the heroism of the 44 Special Action Forces (SAF) personnel who were killed in an anti-terrorist operation in Mamasapano, Maguindanao eight years ago, saying their sacrifices are forever a reminder of their love for the country.
Lt. Col. Arthur Tagtag Jr., commander of the 1st Albay Provincial Mobile Force Company, delivered the tribute message during the PRO5's observance of the National Day of Remembrance at the heroes' shine at Camp Simeon Ola here.
He said the losses and sacrifices of the fallen SAF personnel would forever remind everyone of their genuine love for the people they have sworn to protect.
"Today, we do not only decorate the graves and tombs of the departed SAF-44 but we also commemorate the lives and bravery of all our brothers and comrades of PRO5 who have made the ultimate sacrifice in the name of public service. This in return should have opened our eyes that law enforcement is not more than just a job but a noble calling that only a few brave are given the chance to take," Tagtag said.
Addressing the families of SAF 44, Tagtag said the Philippine National Police (PNP) will continuously pray for the souls of their kin and be thankful for their noble deeds.
"This event also serves as the most fitting way to thank and give the highest praises and respect to the families for they too have sacrificed and suffered the loss of their loved ones. It will never be easy, and no words can lessen the sorrow and heartbreak that it caused, but one thing is certain the long blue line of PRO5 is always with you and please always consider us as your extended family that is ready to help and guide you in every way we can," he said.
Tagtag also reminisced about the old times with his three classmates in the Philippine National Police Academy (PNPA) Kaisang-Bisig Class of 2009 who were among those slain in the Masasapano incident.
"Among those who were fallen during the Mamasapano incident are my classmates, Capt. Max Jim Tria, Capt. Gary Erana and Capt. Gednat Tabdi. In March 2009, our class was about to graduate from the academy. The administration granted our class the power to create our own destiny by allowing us to choose our bureau of service and unit of assignment after graduation. While some of us were avoiding the SAF, there were 30 police cadets including Cadet Tria, Erana and Tabdi who preferred to be assigned to one of the elite units of the PNP," he said.
Tagtag said he first met Tria who was from Catanduanes province during their training days at PNPA in Silang, Cavite in 2005.
"After the processing, Capt. Max Jim Tria together with his father was rushing to go home to attend the graduation ceremony of Max Jim. He was about to graduate from high school and at the back of my mind, ako graduate na ng college, siya graduate pa lang ng high school (I already graduated from college, while he was just to graduate from high school). That only shows that at a young age, Max Jim already showed interest in serving the public. Capt. Max Jim Tria was among the youngest of our class to graduate from PNPA at the age of 21," he recalled.
Tagtag said this motivated him at every operation he joined.
"As an officer leading a group of men and being assigned to one of the red areas of Ilocos Sur, I kept that emotion inside me in order not to affect the morale of my troops. Instead, I used it as a motivation in every operation we undergo. As the days are passing by, it came to my senses that they were already prepared to face the fate that God had selected for them. It started the day they have chosen to become a member of the SAF troopers," he said.
Tagtag said the gallantry of SAF 44 and other fallen comrades from the PRO5 who were killed in action is a virtue that not everyone can have.
"Gallantry is one of the distinctive qualities that we police officers should have and cultivate. As we protect the public, we cannot control the sprout of untoward incidents that might call for heroism above and beyond the call of duty. I hope that we are inspired by the gallantry of SAF 44 and our fallen comrades here in PRO5," he said. (PNA)